Former Hearts of Oak captain, Thomas Abbey has finally open the lid on what led to the 2017 FA Cup final loss Hearts suffered at the hands of Kotoko.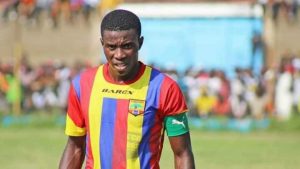 Thomas Abbey, who captained Hearts for that season (2016/2017) was part of a very brilliant Hearts of Oak team that was tipped to get the better of Kotoko in the final played at Tamale.
The build up to the final, dubbed the 'unmissable' captured many Ghanaian football fans who had been rather indifferent to the local game.
The stage was set and everything pointed to a Hearts win but a Saddick Adams hattrick put Kotoko ahead in the first half. Thomas Abbey got a goal in the second half but it was only a consolation as Kotoko fun away 3-1 winners to lift the cup.
In an interview with Angel FM, Abbey talked about that game and what transpired, saying;
"I can say that before the match, everything favoured Hearts. We were supposed to win but there were very serious problems in the team. We had not been paid for three months and winning bonuses from seven matches were also not paid," he said.
"I can tell you that, before the final, we were not even training. We were protesting so we will go to the training grounds and only jog for twenty minutes and go back home," he added.
"Most of the players had their contracts expired so we knew the match was the last opportunity to demand our pay. Not surprising that we lost in the first half. I can say it was what led to the defeat," he concluded.