Former Hearts of Oak striker, Bernard Arthur has dropped a bombshell regarding his rocky relationship with Coach Edward Odoom.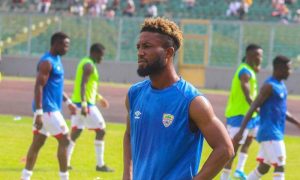 Bernard Arthur, who recently signed for Accra Great Olympics in the mid season transfer window has taken a swipe at his former manager at Accra Hearts of Oak,claiming he is a 'coward' for how e treated him during his time at the club.
Speaking to Adom FM's Sergio Manucho, Arthur didn't hold back in expressing his true feelings for his former manager:
"Coach Odoom doesn't have balls, he couldn't tell me he does not like me, he kept me on the Bench even at training, and allowed unregistered players to train, such Coaches are not bold, he didn't allow me to train, yet called me to camp, then brings me into the game for 10 minutes, when I fail the fans would not know I didn't train", he said
The agitated Bernard Arthur who joined the club late last year under Coach Kim Grant maintained that coach Odoom wanted him to fail hence his decision to not allow him train.
"The coach wanted me to fail, I worked with several coaches in both Club and National teams, and when they don't want your services they tell you, sometimes through text messages, but this coach does not have the balls to tell a player he doesn't like".