Hearts of Oak midfielder Daniel Kordie has blamed former coach Kim Grant as the reason for his long absence from football.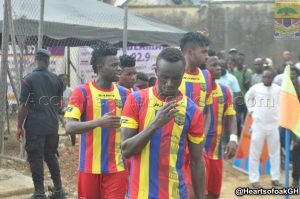 A very emotional Daniel Kordie revealed this in a lengthy interview with Kumasi based station, Oyerepa FM. He was eventually reduced to tears as he blamed the former hearts trainer for his struggles after his injury.
"I have been sidelined for one year now. I suffered the injury on May 23rd last year," Daniel Kordie narrated.
"Hearts of Oak have not neglected me but I only blame Kim Grant for what has happened since May 2019", he continued
"He [Kim Grant] around when I sustained the injury, I told him about my situation but he always pretended that he has informed the board of directors and management about my injury" ,he added.
After later informing the board himself,Daniel Kordie finally got the attention and a plan for his treatment was then put in place. Even that,he claims Kim Grant opposed the decision pointing out that he (Kordie) was out of contract.
"
When the Hearts of Oak board of directors decided to make an arrangement for my surgery. Kim Grant kicked against their decision"
"He told them not cater for my surgery because my contract with the club had expired" he painfully said.
"I was asked to visit a doctor for a MRI scan last December under Frederick Moore. He gave me money for the scan"
He was then scheduled to leave the country for the surgery but restrictions due to the COVID 19 pandemic is holding him back.
"I was to leave the country for a surgery as recommended by the doctor but the Government restrictions on travels has halted everything".
Daniel Kordie joined Hearts in 2016 and starred for them in the Normalisation Committee Spevial Comptetition.