A pair of twins escaped a house of horrors in Texas when they managed to break free from their handcuffs and flee to a neighbor's home.
The 16-year-old twins — a boy and a girl — were allegedly shackled by their mother and her boyfriend and abandoned inside their Houston home, according to local reports.
Shocking Ring camera footage posted by KHOU showed the harrowing escape on Monday.
The twins told police that Zaikiya Duncan, 40, and Jova Terrell, 27, left them in a utility room where they were forced to eat and drink their own waste, refusing to let them use the toilet, sources told KHOU.
The woman who found them added: 'They would only feed them a sandwich, only if they were quiet the whole day, if they made any type of noise they wouldn't be fed. How a mother could do this to her kids and… I feel like my tears are out of frustration anger and sadness.  
'They were so skinny and so frail. They just looked like they had been through a lot. They told me that their mom kept them locked in the laundry room, naked, zip tied from the ankles and handcuffed from the wrist.' 
Louisiana State Police tracked down their mother, 40-year-old Zaikiya Duncan, and her boyfriend, 27-year-old Jova Terrell, at a traffic stop in Baton Rouge at 1:45 p.m. Both are charged with two counts of felony injury to a child and will be brought back to Houston.
Both Duncan and Terrell have been jailed, pending extradition.
Duncan is scheduled for an extradition hearing Thursday, according to ABC13.
The twins have been hospitalized and are in the custody of Child Protective Services, Jeff McShan said.
At least five other siblings were rescued by police, one of whom was still with Duncan and Terrell, while the other four had been left with relatives throughout Louisiana.
The five children include:
Nicholas Menina, 7 (boy)
Zayden Menina, 10 (boy)
Jovion Menina, 12 (boy)
Javier Menina, 12 (boy)
Jarod Menina, 14 (boy)
Troubling past: The mother has a history of abusing her children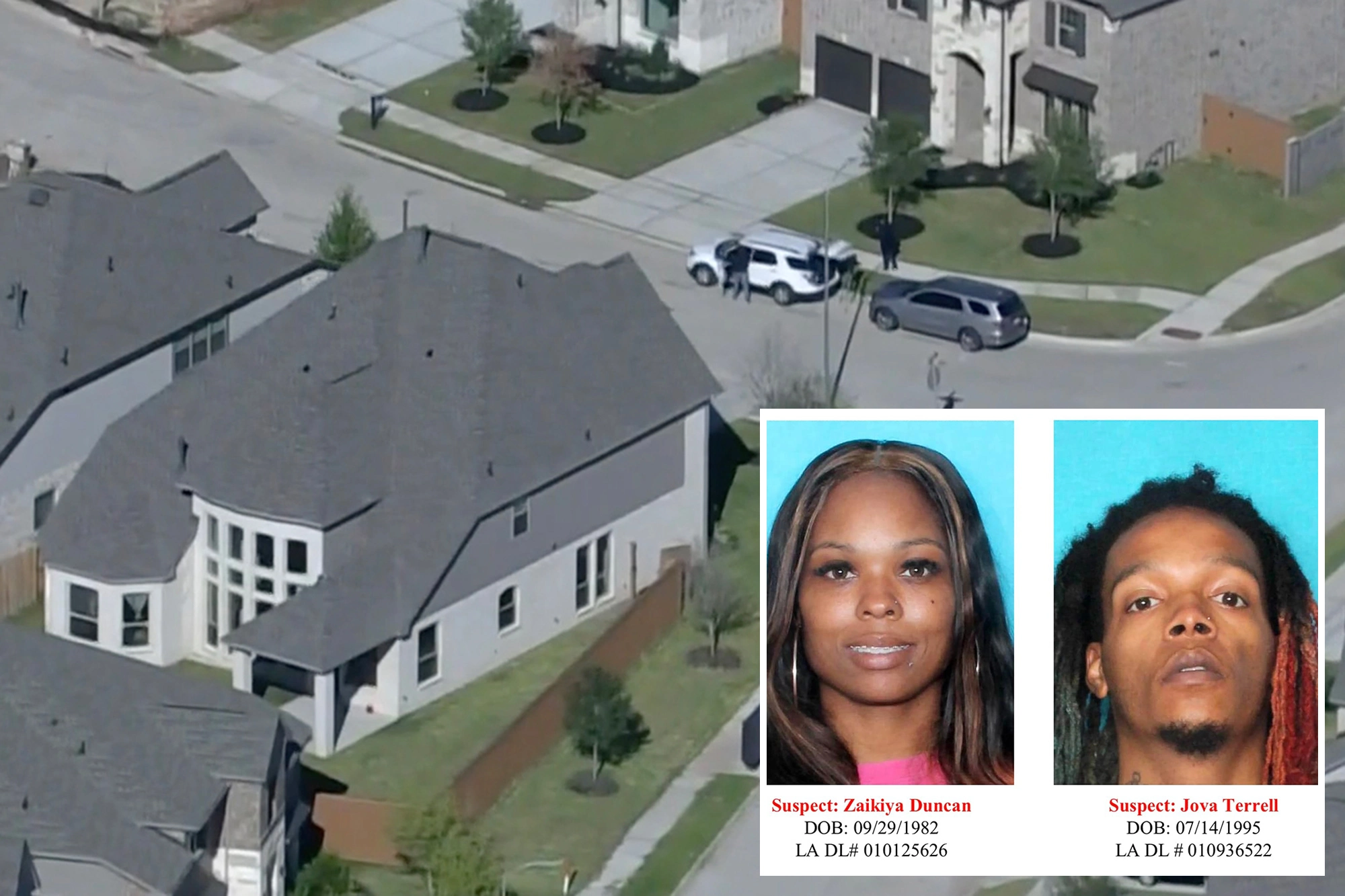 It's not the first time Duncan has been arrested and charged due to alleged child abuse.
According to Louisiana court documents from 10 years ago, a then 5-year-old child of Duncan's was taken from school to a local hospital to be treated for burns to his feet, genitals, and other parts of his body.
Doctors determined it was likely the result of being burned by hot water.
The boy also had bruises on his torso, back, hip and buttocks.
According to the documents, when police went to Duncan's home, they found a 20-month-old child wrapped in clothing with his hands bound. The only other person in the home was the child's 4-year-old brother, according to the documents.
During questioning, police said Duncan admitted to routinely disciplining one child by making him get into a push-up position for up to an hour, causing the child's hands to swell. The child was also forced to sleep on the floor of the closet, court documents said. The door of the closet was blocked by boards to keep the child from "escaping" and "stealing food from the kitchen," court records said.
Police reported at the time that two of Duncan's other children also showed signs of abuse and were removed from the home. They said Duncan admitted she had been investigated for allegedly abusing the children in the past. She was charged with cruelty to juveniles.
It's not clear how long Zaikiya Duncan and her current boyfriend had lived in the house on Marina Alto Lane, near the intersection of West Road and Fry Road.
Fact Check
We strive for accuracy and fairness.
If you see something that doesn't look right, email us at  [email protected]