During an interview on Good Morning America, Craig Moyer, one of the jurors who found Alex Murdaugh guilty of double murder, revealed that the jury unanimously reached their verdict in just 45 minutes.
Craig Moyer explained why he and his fellow jurors believed that Murdaugh was responsible for the killings of his wife Maggie and son Paul on their South Carolina property in June 2021.
'He was a good liar, but not good enough,' Moyer said, breaking his anonymity to discuss the blockbuster trial that had America gripped.
After a six-week trial involving mountains of evidence from over 70 witnesses, Moyer and the 11 other jurors deliberated for three hours before finding Murdaugh, 54, guilty of the murders and related weapons charges.
Ultimately, Moyer said, it took just 45 minutes for the group to reach the unanimous decision that Murdaugh shot his wife Maggie, 52, and son Paul, 22, in cold blood near the kennels on the family's sprawling estate on June 7, 2021.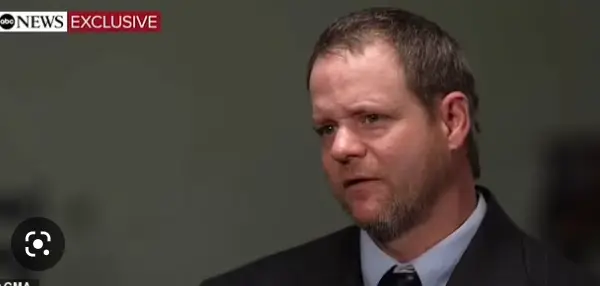 'You start deliberating, going through the evidence and everybody was pretty much talking.
'About 45 minutes later, after all our deliberating, we figured it out. The evidence was clear.'
Moyer was unmoved by Murdaugh's own emotional testimony, during which he broke down several times when discussing the murders.
'I didn't see any true remorse or any compassion or anything. He never cried.
'All he did was blow snot. [There were] no tears. I saw his eyes,' Moyer said.
Murdaugh was notably emotionless when the damning verdict was read.
His surviving son, Buster, was also quiet, and but his head in his hands.
Moyer said that Murdaugh's voice in the background of a Snapchat video Paul took just moments before he was killed was the key exhibit that convinced him of the once-prominent lawyer's guilt.
"You can hear his voice clearly," Moyer said, though he added that he was "very surprised" when Murdaugh reversed over a year of lies and admitted on the stand to being at the kennels just before the shots rang out.
Moyer also told Pilgrim that the jury did not buy the defense's argument that Murdaugh did not have enough time to kill Maggie and Paul, clean up or stage the scene, visit his ailing mother, and return within a little over an hour, when he finally called the police.
In one of the bodycam videos from the scene that was shown in court, Murdaugh can be heard trying to blame the shootings to threats Paul received following a fatal 2019 boat crash – just moments after he supposedly stumbled upon the mangled bodies of his loved ones.
Moyer indicated that the jury was unnerved by Murdaugh's quick thinking.
"His responses, how quick he was with the defense, and his lies, just steady lies," he said, trailing off in disbelief.