Officer Trevor Kirk of Lancaster, the individual captured in the WinCo video engaging in physical aggression towards an elderly woman, has previously been involved in various incidents with community members.
These encounters have sparked concerns regarding his approach to policing within the city.
The description below provides further details about Trevor Kirk:
A skeletal figure, a white male officer of emaciated stature.
Clad in a khaki uniform, its ill-fitted fabric sags and swallows his feeble frame.
Mustard-yellow stitching traces the garments' seams, a mockery of craftsmanship on worn-out attire.
From beneath the loosely draped white T-shirt, cables sprout like aberrant appendages, snaking along his frail form.
A receding hairline exposes a barren scalp, its remnants concealed by a desperate 5 o'clock shadow and a pitiful comb-over.
Dark Ray-Ban glasses, disproportionate on his meager countenance, magnify his awkward presence.
Adorned with a haphazard assortment of Los Angeles Police Department gear, he resembles a pitiful imitation of authority. Ill-fitting name tape and loose pants only amplify his incongruity.
This wretched specter adopts power poses, a vain attempt to mask his inherent frailty, while a vacant gaze betrays the emptiness within.
Watch video below
 

View this post on Instagram

 
What happened at WinCo store in Lancaster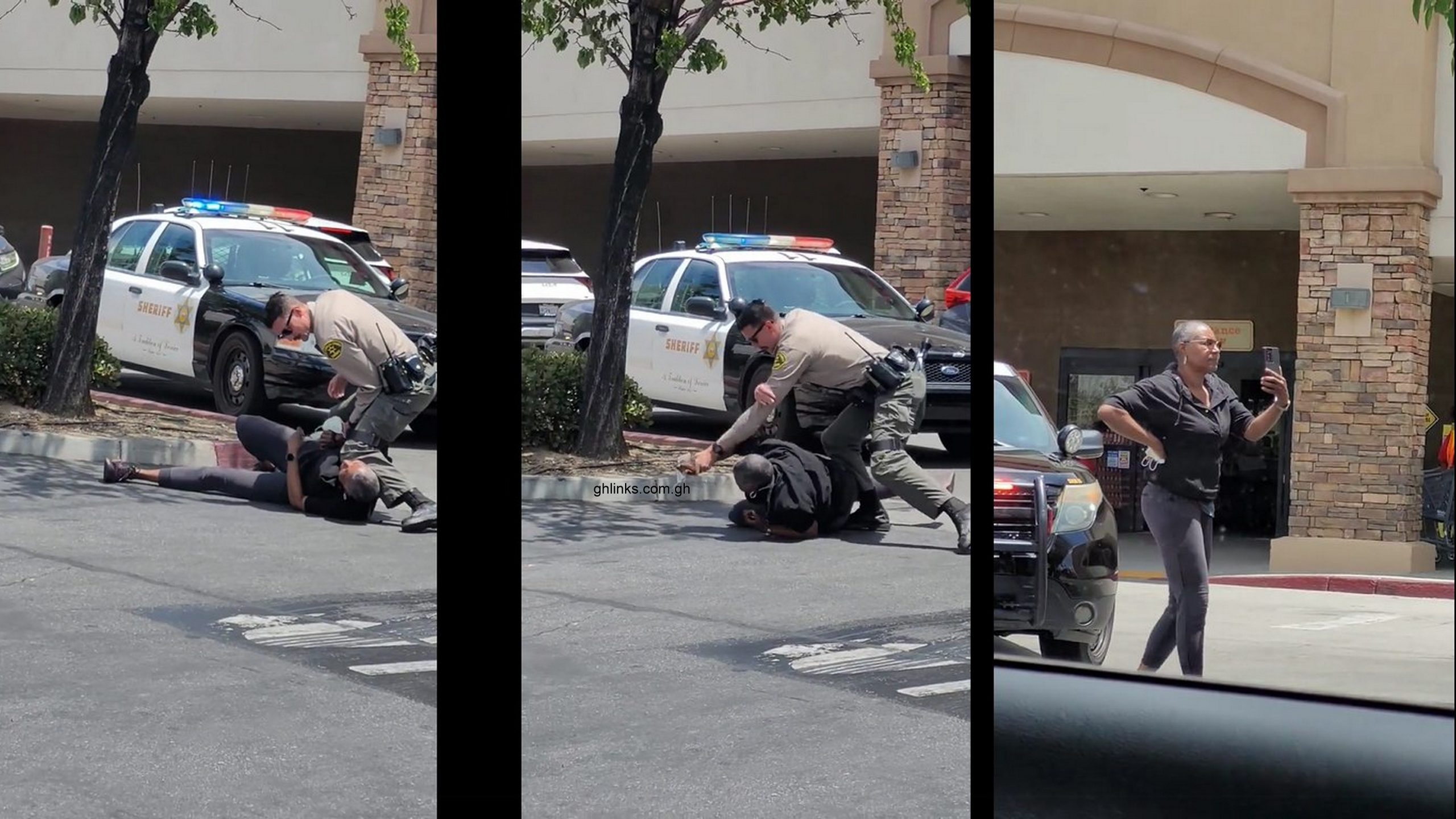 The incident took place on June 24 outside of a WinCo store in Lancaster, about 73 miles north of Los Angeles.
A man and a woman, whose names and ages have not been released, were being apprehended outside the store over accusations of shoplifting.
The woman, who was thrown to the floor and threatened by Trevor Kirk and another officer, was attempting to record the arrest on her phone.
'Why am I under arrest … for what?' the suspect can be heard saying before the officer responds he's 'not under arrest' and claims he is just being detained.
The man appears to grow annoyed and responds by asking why he's being detained and is told to 'calm down' by a different deputy.
The responding officers can be seen handcuffing him before walking to the woman on her phone recording the ordeal.
As the officers try to grab her arm, she pushes them away and yells: 'No, you can't touch me!'
The deputies then tell her to stop as one grabs her and throws her to the ground.
'Get down on the ground!' the deputy yells.
The woman responds by informing them that her recording is 'already on YouTube live!'
'Stop it or I'll punch you in the face,' the deputy says. 'You punch me, you're going to get sued,' she slaps back.
Trevor Kirk then pepper sprays the woman as the confrontation continues, while the woman also claims that she 'can't breathe' and that the deputy was putting his knee on her neck.
Cell phone video showed someone saying that the woman has cancer and asked them not to 'slam her down like that.'
The sheriff's department said in a statement that the deputies involved have been reassigned and are waiting further administrative review.
 

View this post on Instagram