Mercy Johnson Okojie, also sometimes referred to as MJ, is a Nigerian actress, politician, and entrepreneur who is considered to be one of the most controversial actresses in Nigeria. 
Her Nollywood debut came in 2003 when she took on the role of a possessed Nanny in the movie, The Maid.
 As a result of her first role in the Maid movie, where she played a major role, she has managed to attract numerous movie producers and she has appeared in dozens of other movies since then. 
Apart from the fact that she is a successful actress, she is married to Prince Odianosen Okojie, with whom she has four children: three daughters and a son. 
Her accomplishments as an actress, comedian, entrepreneur, wife, and mother are presented in more detail below.
| | |
| --- | --- |
| Real name | Mercy Johnson Okojie |
| Date of birth | 28 August 1984 |
| Country of Origin | Federal Republic of Nigeria |
| Source of Wealth | Endorsement and Businesses |
| Net worth | $5 million |
Date of Birth/ Place of Birth
The actress was born in Lagos State, Nigeria, on August 28, 1984
Age
Her current age as of 2022 is 38 years.
Where Is Mercy Johnson Okojie From?
She is originally from Okene, a town in Kogi State, Nigeria
Eudcation
Her primary schooling took place in Calabar.
Her father was eventually posted to Lagos State as a Naval Officer, where she continued her schooling at a Nigerian Navy Primary School.
 Her secondary education began at Rivers State Secondary School before she finished at Nigerian Navy Secondary School, Rivers State.
Financial reasons caused her to drop out of school several times.
She had difficulties paying her school fees, as well as failing the university entrance exam, which led her to begin acting.
 She was unsuccessful in her first attempt at entering the university, but she attempted it again. 
She was admitted to the Lagos State University to study English. 
After studying for one year, she had to defer admission due to her acting career and financial issues
Career
Mercy Johnson Okojie began her acting career after graduating from secondary school.
Unlike other Nollywood actors who had minor roles at the start of their careers, Mercy Johnson had major roles in her first movie "The Maid".
With her excellent performance, she shot to stardom and was destined for success in Nollywood.
To date, she has over 200 films to her credit. Some of the other movies she has appeared in include Hustlers, Baby Oku in America, and War in the Palace.
As a result of her roles and contributions to the movie industry, she has become a household name and fortune.
Along the way, she has received a few awards as well.
She released her first self-produced film in January 2020 after starting a career in movie production in 2019.
Her first movie was an epic movie called The Legend of Inkpi.
Husband and Family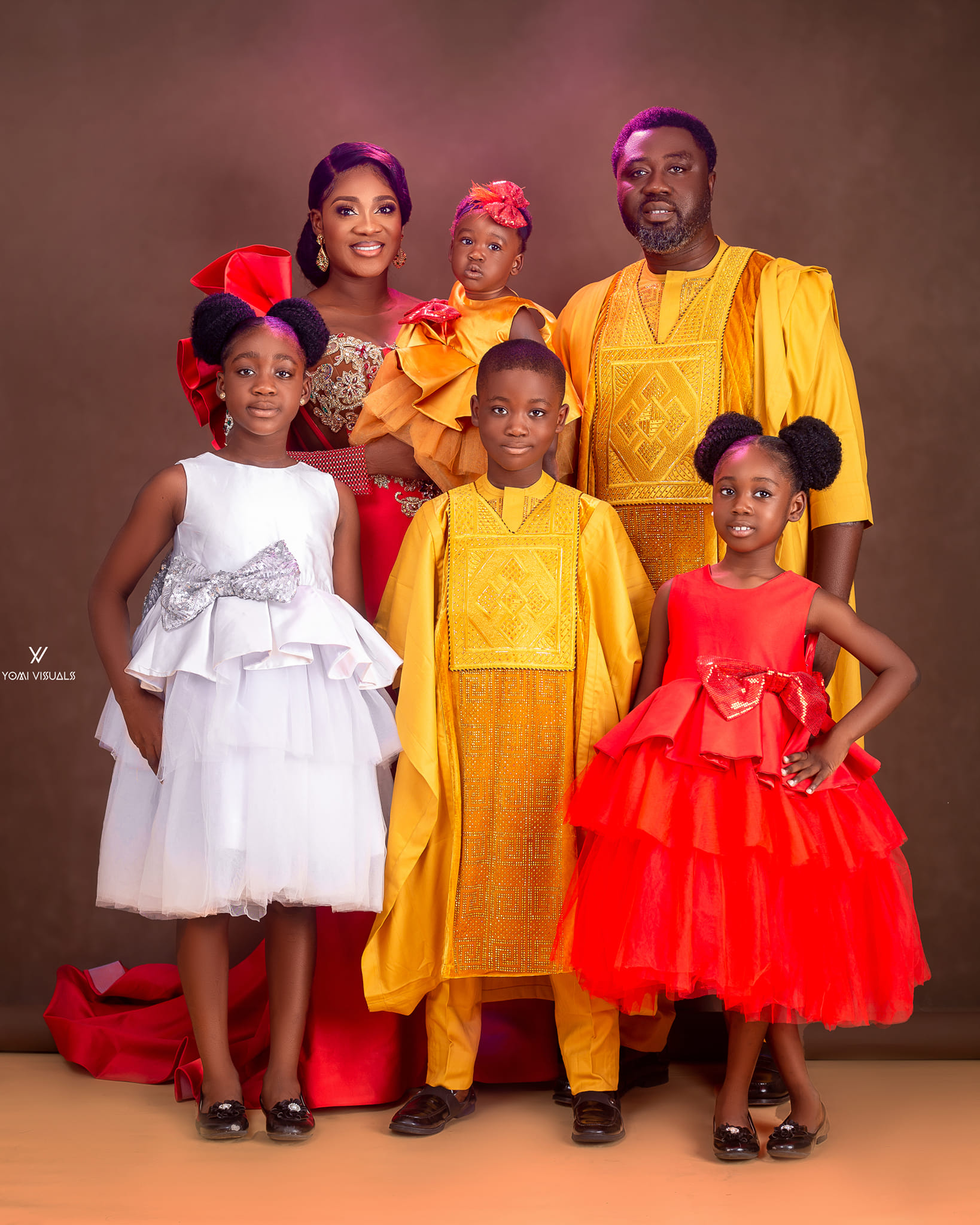 In 2011, Mercy Johnson tied the knot with Prince Odianosen Okojie.
Christ Embassy, Oregun, Ikeja, was the venue for the grand wedding ceremony.
Mercy Johnson and her husband, Prince Odianosen Okojie, are blessed with four kids.
List of Mercy Johnson's children
| | | | | |
| --- | --- | --- | --- | --- |
| | Name | Gender | Born | Age |
| 1 | Purity Ozioma Okojie | Female | 2012 | 9 years |
| 2 | Henry Ozioma Okojie | Male | 2014 | 6 years |
| 3 | Angel Onosetale Okojie | Female | 2015 | 6 years |
| 4 | Divine-Mercy Ehinomen Okojie | Female | 2020 | 1 year |
 

View this post on Instagram

 
Political Appointment
At the age of 33, she was appointed to a political position.
 Governor Yahaya Bello, the governor of the Kogi state, designated Mercy as his Special Assistant (SSA) for Entertainment, Arts, and Culture in 2017. 
As well as her other activities, she juggles this position.
Net Worth
Based on her salary, endorsements, and other sources of income, Mercy Johnson is estimated to have a net worth of $5 million.
Movies
Year
Film
Character
Notes
2004
The Maid
Jane
I & II With Clem Ohameze, and Eucharia Anunobi
Into Temptation
With Genevieve Nnaji, Ramsey Nouah, and J.T. Tom West
House Party
With Olu Jacobs, Jim Lawson, Zack Orji, and Emeka Rollas…
2005
Women in Power
Julia
I & II With Olu Jacobs, Liz Benson and Patience Ozokwor
Lost to Lust
Esther
I & II with Monalisa Chinda and Yemi Blaq
Kill the Bride
Love
I & II with Rita Dominic and Mike Ezuruonye
2006
Under the Sky
Supriya
I & II with Ramsey Nouah and Mike Ezuruonye
Under Control
Eve
I & II With Nonso Diobi, Yul Edochie, Chinenye Nnebe, and Gentle Jack
Thanksgiving
Gift
I & II with Clem Ohameze and Eucharia Anunobi
Sweet Mama
Viola
I & II With John Okafor and Patience Ozokwor
Dear Mama
Viola
I & II With John Okafor and Patience Ozokwor
Pay Day
With Mike Ezuruonye
Painful World
Anny
I & II With Desmond Elliot, Chioma Chukwuka, Ashley Nwosu, Benedict Johnson
One-Bullet
Juliet
I & II With Bob-Manuel Udokwu, Justice Esiri, and Kelvin Ikeduba
Oath of a Priest
Kate
With Benedict Johnson and Jim Lawson
Married to the Enemy
Vera
With Desmond Elliot And Ini Edo
Last Kiss
With Emeka Ike, Ini Edo, Ejike Asiegbu, and Florence Onuma
Endless Night
with Ashley Nwosu, Benedict Johnson, and Robert Peters
Emotional Blunder
Yvone
I & II With Clem Ohameze, Eucharia Anunobi, and Fred Aserome
19 Macaulay Street
With Tony Umez and Eucharia Anunobi
2007
Wealth Aside
With Nonso Diobi, Jim Lawson, and Yvonne Jegede
Twist of Fate
Buchi
With Desmond Elliot and Eucharia Anunobi
The Scorpion God
Ihuoma
With Sam Dede, and Ikem Chude
The Last Tradition
With Kenneth Okonkwo, and Chiwetalu Agu
Take Me Home
Loveth
With Desmond Elliot and Chiege Alisigwe
Look Into My Eyes
Loveth
With Desmond Elliot and Chiege Alisigwe
Sunny My Son
Juliet
With Nonso Diobi, Benedict Johnson, Yul Edochie and Pete Edochie
My Beloved Son
Juliet
With Nonso Diobi, Benedict Johnson, Yul Edochie, and Pete Edochie
She is My Sister
Nancy
I & II With Steven Kanumba and Nkiru Sylvanus
Power of Justice
Nkechi
With Omotola Jalade Ekeinde, Nonso Diobi, Queen Nwokoye
Kolomental
Anna
With Moses Armstrong
Keziah
Keziah
I & IV With John Okafor, John Dumelo, MC Smith Ochendo, Eve Esin, and Adaora Ukoh
Genevieve
Example
Evil Agenda
Diane
I & II With Pete Edochie, Patience Ozokwor, Dauda Ogbonna, JohnPaul Nwadike
Desperate Ladies
Annabel
I & II With Chioma Chukwuka, Oge Okoye, Nonso Diobi, Solomon Akiyesi, and Fred Aseroma
Crisis in Paradise
Kella
I & II With Kalu Ikeagwu, Ini Edo, Mike Ezuruonye, and Tonto Dikeh
Breath of Anger
Chiaku
with Mike Ezuruonye, and Tchidi Chikere
Area Mama
Adanne
With Patience Ozokwor and Eucharia Anunobi
Tiger King
Akwaugo
with Nonso Diobi, Chinwe Owoh and Pete Edochie
2008
The Gods Are Wise
Adaugo
with Nonso Diobi
Temple of Justice
Nkechi
with Nonso Diobi and Omotola Jalade Ekeinde
Tell Me Why
Jovita
With Tony Umez, Ngozi Ezeonu, and Benedict Johnson
Soul Of A Maiden
Nuria
with Ini Edo and Mike Ezuruonye
Strength to Strength
Jane
I & II with Patience Ozokwor, Mike Ezuruonye and Tonto Dikeh
Sin No More
Bridget
I & II with Kanayo O. Kanayo, Patience Ozokwor and Halima Abubakar
Live to Remember
Buchi
I & II with Ini Edo and Mike Ezuruonye
Kiss My Pain
Mai
With Mike Ezuruonye And Yul Edochie
2008
Forest of Promises
Police Inspector Bisi
I & II with Mike Ezuruonye, and Charles Okafor
Don't Wanna Be a Player
Monalisa
I & II with Ini Edo, Jim Iyke and Mike Ezuruonye
Corporate Maid
Rose
I & II With Oge Okoye, Van Vicker, Ngozi Ezeonu
Act of Faith
Uche
I & II with Patience Ozokwor and Mike Ezuruonye
2009
Tears of Hope
Olamma
I & II with Olu Jacobs, Van Vicker and Ngozi Ezeonu
Royal Tears
Olamma
I & II with Olu Jacobs, Van Vicker and Ngozi Ezeonu
Sound of Pain
Amarachi
I & II With Van Vicker, Olu Jacobs, and Clarion Chukwura,
Guilty Pleasure
Boma
I & II With Desmond Elliot, Ramsey Nouah, Nse Ikpe‑Etim, Majid Michel, and Omoni Oboli
Sexy Girls
Zita
with Nonso Diobi, Onny Michaels, Uche Ogbodo
Heat of the Moment
Anna
with Emeka Ike, Kofi Adjorlolo, and Vitalis Ndubuisi
Entanglement
Chidera
I – IV with Uche Jombo, Desmond Elliot and Yemi Blaq
Clash of Twins
Mildred / Melisa
I & II With Mike Ezuruonye and Rama Brew
Beyond Desire
Anne
with Nonso Diobi
A Weeping Soul
2010
A Cry for Justice
Ella
I & II With Mike Ezuruonye, Jackie Appiah, Chacha Eke
2011
White Chapel
Judith
With Van Vicker and Nkem Owoh
Where Money Sleep
Egede
With Frank Artus, Rita Dominic, and Nuella Njubigbo
Weeping Soul
Grace
I & II With Kenneth Okonkwo, Mike Godson, and Vitalis Ndubuisi
The Seekers
Judith
I & II With Olu Jacobs, Chika Ike, Annie Idibia, Halima Abubakar, Rukky Sanda
The Code
Susan
With Muna Obiekwe, and Angela Okorie
Secret Code
Susan
With Muna Obiekwe and Angela Okorie
Thanks for Coming
Frieda
With Yul Edochie and Angela Okorie
Gallant Babes
Frieda
With Yul Edochie and Angela Okorie
Mirror of Life
Nneka
I & II With John Dumelo, Queen Nwokoye
End of Mirror of Life
Nneka
I & II With John Dumelo, Queen Nwokoye
Jewels of the Sun
Nneka
I & II With Mike Ezuruonye, Emeka Ike, Browny Igboegwu
Heart of a Widow
June
I & II With Frank Artus, Kenneth Okonkwo, and Angela Okorie
Heart of a Fighter
Dubem
I &II With Ruth Kadiri, Ramsey Nouah, Enebeli Elebuwa
Painful Victory
Chinenye
I & II With Ken Erics, Ngozi Ezeonu, Vitalis Ndubusi, and Chinwe Owoh
2012
World of the Mind
Example
With Yul Edochie and Patience Ozokwor
My World
Nancy
With Yul Edochie and Patience Ozokwor
Mercy the Bus Driver
Ada
With Ruth Kadiri, Prince Eke, Oge Okoye
Heart of a Saint
Chidi
I &II With Kenneth Okonkwo
Sins of the Past
Wendy
I & II With Frank Artus, and Mary Remmy Njoku
Hand of Fate
Wendy
I & II With Frank Artus and Mary Remmy Njoku
Brave Mind
Wendy
I & II With Frank Artus and Mary Remmy Njoku
Deep Water
Erica
I & II With Yul Edochie, Patience Ozokwor, and Eve Esin
The Enemy I See
Erica
I & II With Yul Edochie, Patience Ozokwor, and Eve Esin
2012
Power Of A Kiss
Sherry
I & II With Jim Iyke, Olu Jacobs, John Dumelo
2013
Baby Oku In America
Baby Oku
I & II With Chet Anekwe, and Uche Ebere
2014
Hustlers
Vicky
Bloody Ring
2015
Thy Will Be Done
Lucy
With Ramsey Nouah and Mary Remmy Njoku
2016
Light Will Come
With Majid Michel, Shaffy Bello, and Afeez Oyetoro
2017
16th Anniversary
With Tony Umez, Eucharia Anunobi, and Jemima Osunde
2018
Seven & A Half Dates
Bisola
With Toyin Aimakhu, Ali Nuhu, Ken Erics, Jim Iyke, Sola Sobawale, and Akin Lewis
2019
Mmasi: The Arrogant Preacher
With Chiwetalu Agu
2021
A Naija Christmas
Mrs. Bliss (Sammy)
With Rachel Oniga, Abayomi Alvin, Efa Iwara and Kunle Remi