According to multiple reports online, Bianca Censori is the daughter of Australian Mob royalty.
The question that emerges from this reports is whether Bianca Censori West's father, Elia Leo Censori, was a notorious Australian gangster.
This query delves into the depths of history, aiming to discern the truthfulness of claims surrounding Elia Leo Censori's past.
Let's find out below
Was Elia Leo Censori a notorious Australian gangster?
As reported by dailymail.com, it has come to light that Bianca's father, Elia Leo Censori was a former notorious Australian gangster.
He served a substantial prison sentence following his 1982 conviction for possessing a prohibited import, namely heroin. He received a five-year sentence, with a minimum of three years to be served.
Leo is the brother of Eris Censori – a notorious gangland killer once dubbed 'Melbourne's Al Capone'.
Eris faced the death penalty in Western Australia due to a murder conviction, which was later changed to a life imprisonment sentence.
The death penalty was abolished in Western Australia in 1984, although the last execution in Australia took place in 1967.
Eldest brother Edmondo, known as 'Eddie Capone', has convictions in Victoria for violence, including assaulting police, theft and threats."
As well as heroin dealing, Leo  also has convictions for possession of a pistol and fully jacketed ammunition.
In 1991, Leo's former wife Faye Glascott spilled the beans on his illegal gambling empire.
She told Herald Sun reporter John Silvester that Leo had been involved in a cartel that controlled a large slice of a lucrative illegal gambling industry in Melbourne during the 80s.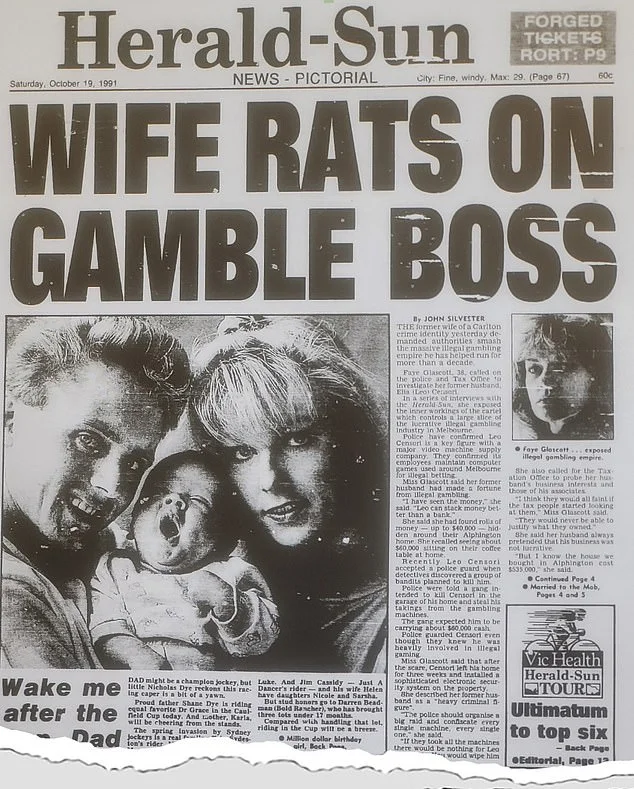 Ms Glascott at the time said her former husband had made a fortune from illegal gambling.
'Leo can stack money better than a bank.'
She said she had found rolls of money – up to $40,000 – hidden around their Alphington home and recalled seeing about $60,000 sitting on their coffee table.
Leo still resides in leafy Alphington, alongside his current wife Alexandra, who is the mother of Bianca and her sisters Angelina and Alyssia.
Who are Bianca Censori 's parents?
Bianca Censori 's parents are her mother, Alexandra Censori, and her father, Elia Leo Censori.