In a tragic incident that unfolded in Rocklin, California, a compassionate and kind-hearted father named Casey Rivara lost his life while attempting to help a family of ducks cross a road.
This heart-wrenching incident occurred when Casey, a 41-year-old father of two, parked his car by the side of the road and began ushering the mother duck and her ducklings across the intersection of Park Drive and Stanford Ranch Boulevard.
Unfortunately, Casey was struck by a car driven by a 17-year-old female driver, leading to his untimely death.
As his devastated children, aged eleven and six, watched from their family car, the incident has left the community in shock and mourning.
The Tragic Incident and Investigation
The Placer County Sheriff's Office reported that the teenage driver involved in the incident was cooperating with the authorities.
However, it was unlikely that she would face charges in relation to Casey Rivara's death.
The details surrounding the circumstances of the accident are still under investigation.
A GoFundMe Campaign for Casey Rivara's Family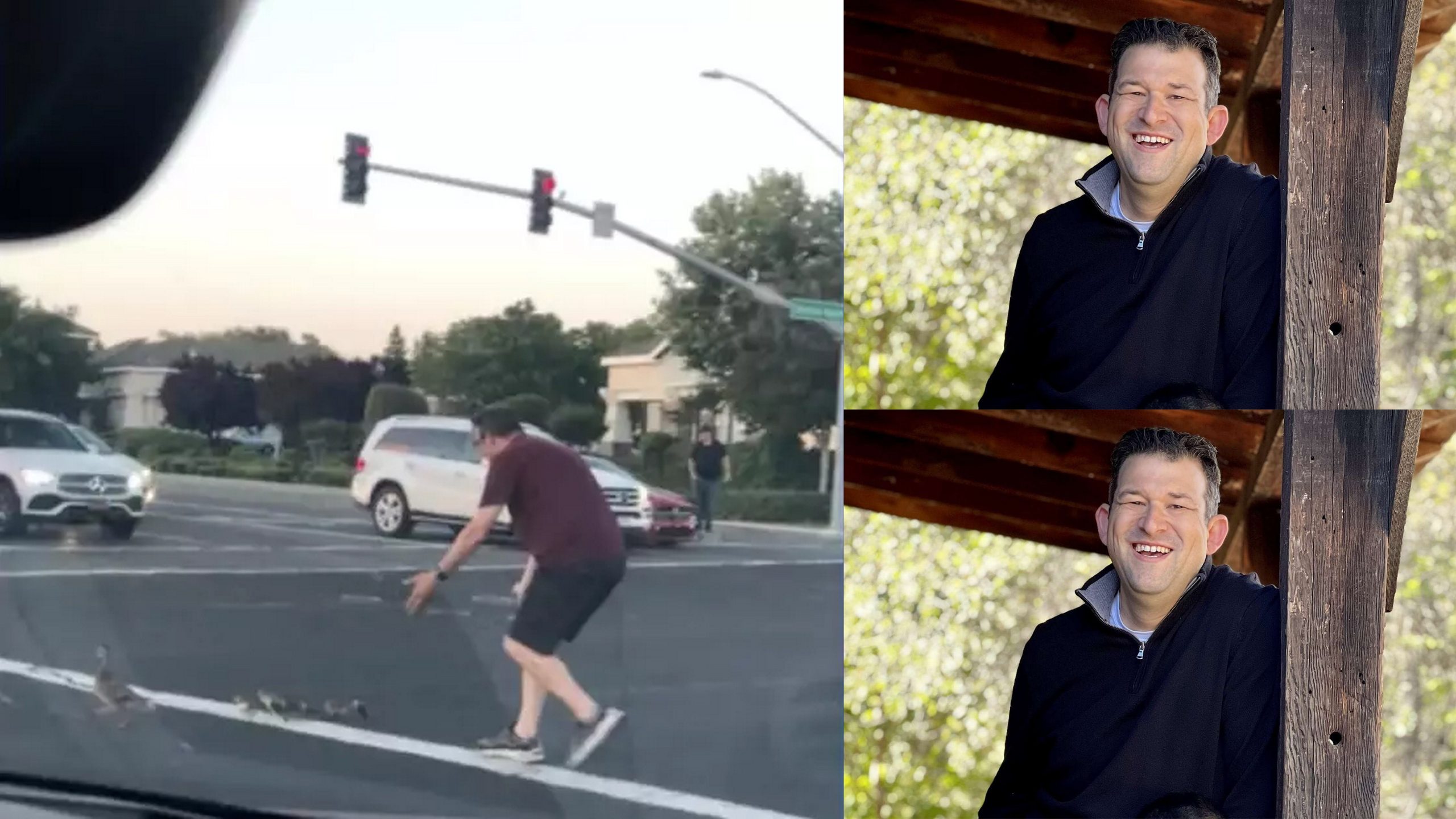 In the aftermath of this heartrending incident, Casey Rivara's aunt, Tracey Rivara, took the initiative to create a GoFundMe page to raise funds for Casey's widow, Angel.
The GoFundMe campaign, which has already garnered more than $40,000 in donations, aims to support Casey's grieving family in the wake of this immense loss.
In her heartfelt tribute on the fundraising page, Ms. Rivara described Casey as the kindest and most amazing husband and father, highlighting his compassionate nature even in his final act.
Remembering Casey Rivara
Casey Rivara, a family-oriented man, had met his soulmate, Angel, during their high school years.
Their deep connection and love blossomed at the age of 17, and they remained inseparable partners for the past 23 years.
Together, they raised two children, Sophia and James, who are now eleven and six years old, respectively.
Both children attended Maria Montessori Charter Academy, where Casey had recently begun working.
His family was at the center of his world, and he found joy in positively impacting the lives of other children through his work at the school.
Capturing Casey Rivara's Final Act of Kindness
The selflessness and kindness that defined Casey's character were evident in his final act, which was witnessed by 12-year-old William Wimsatt, the child of another driver.
William recounted how Casey got out of his car and helped the ducks cross the road while onlookers applauded his compassionate actions.
Casey ensured the safety of the ducklings by assisting them onto the curb.
Tragically, moments after this heartwarming gesture, a car traveling eastbound on Stanford Ranch Boulevard struck and fatally injured Casey.
The impact was witnessed by William and his family, who were deeply moved by Casey's kindness and devastated by the tragic outcome.
Fact Check
We strive for accuracy and fairness.
If you see something that doesn't look right, email us at  [email protected]