Wedding preparations are currently underway for Britney and Sam's wedding, as the couple prepares to say their 'I dos' in an 'intimate' Los Angeles ceremony reportedly set to take place today,9th June 2022.
Here are all the details we know so far about Britney and Sam Asghari wedding.
Britney and Sam Asghari Wedding: Location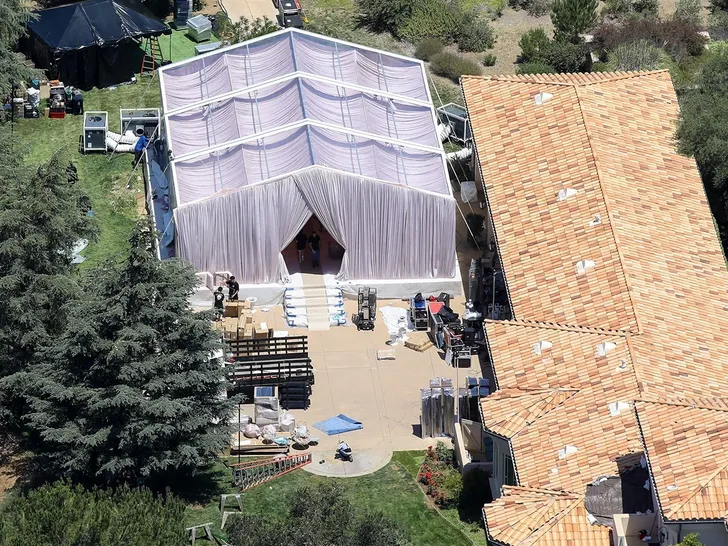 Workers were seen setting up a large white tent on Wednesday outside of Britney's 12,464-square-foot, five-bedroom, eight-bath Italian villa – which is located in a gated community in Thousand Oaks, California.
The secluded tent will offer a good amount of privacy for the high profile couple, who started dating in 2016 and announced their engagement back in September.
Who will design her wedding dress?
In the latest of her signature Instagram slideshow posts, Spears shared a series of selfies wearing a pastel pink tulle ballgown, sending fans into a frenzy that the soon-to-be bride had chosen her wedding dress.
However, Spears swiftly cleared up any rumours about whether the gown was in fact what she would be wearing on her wedding day, and sneakily let slip who is designing the singer's bridal outfit .
Will Britney Spears and Sam Asghari sign a prenup?
Britney Spears previously filed court papers which state that she doesn't want her father to 'impede' a prenuptial agreement, which she is believed to be commissioning, prior to her marriage to Sam Asghari.
 

View this post on Instagram

 
While several well wishes shared congratulatory messages for the pair following their engagement, some fans were quick to mention the importance of a prenup in order to protect both of the stars' finances.
The 40-year-old singer and the 28-year-old actor and fitness professional were also spotted out and about in the LA area in the days leading up to the wedding.