Former Black Stars goalkeeper Richard Kingson, a.k.a. Olele has spoken about the 'spirituality' in football and how he believes it exists.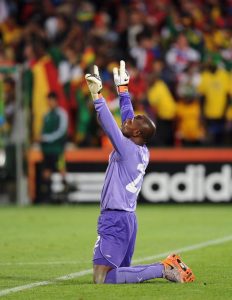 Richard Kingson, who is celebrating his 41st birthday was a special guest at Joy FM's Saturday morning show, the Sports link, hosted by ace Sports Journalist Nathaniel Attoh.
The interview focussed on Kingson's career in retrospect and some key moments of his fulfilling career at both club level and the senior national team, the Black Stars.
When asked about spirituality in our football, Kingson added his voice to the on going conversation about how much the matters of the spiritual world affects the game of football.
"Once something exists, you can be sure there is a spirit behind it. It is the same with football", Richard Kingson stated
He related the events to his experience at the AFCON 2010 in Angola.
"Before the tournament [Angola 2010 AFCON], some Ghanaians discouraged the team before we played. How many Ghanaians believed that the squad will get to the finals? We promised ourselves that we will get to the finals. We knew we will get to the finals,"Kingson said.
It is this belief, according to Kingson, that drove the team to the final, where they locked horns with then defending champions, Egypt. They narrowly missed out on the trophy, Bowing out to a late Mohammed Gedo goal.
On that game, Kingson recalls looking to the Egyptian bench and seeing as the team were involved in what he believed to be 'ways and means' to help them win the game.
"The Egyptian bench was closer to my post so I kept looking at their bench. On one occasion, they brought out some cards and started shuffling them. They then made a substitution and the person they brought in scored with his first few touches of the ball", he narrated.

Richard Kingson is currently the coach of club side, Emmanuel FC, owned by popular Nigerian preacher,Prophet TB Joshua.