Former Kumasi Asante Kotoko captain and Black Stars defender, Issah Ahmed has asked the GFA to put in measures to stop player exodus from the Ghana Premier League.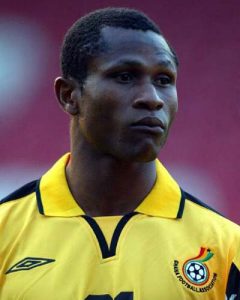 Speaking in an interview with GTV Sports Plus, Issah Ahmed encouraged the GFA to ensure clubs put together a suitable and appreciable payment plan for their players in order to keep them in the league.
"It will be very hard for me to advice any player right now, I wouldn't ask any player to stick to a Club when he gets a chance to move outside but if we want our League to be much better… and I am not talking about Kotoko, I am talking about general issue," he said on GTV Sport plus
"If we want our League to be much better and pull out crowds like we did from the 90's to the 20's then players need to be paid better and then keep them for a long time in the country. That is where supporters will have believe in them to come to the stadium and watch them,"he added
"If you look at our days, Hearts of Oak supporters coming to the stadium knew they had somebody like Adjah Tetteh, Don Bortey, they had a whole lots of players, same thing to Kotoko, a fan coming to the stadium knows am coming to watch Yusif Chibsah, he knows he is going to watch Charles Taylor, Issah Ahmed, Stephen Oduro. The names goes on and on and that is what he had during our time."
Issah Ahmed made 13 appearances for the Black Stars, representing the country at the 2006 AFCON and Ghana's maiden appearance at the 2006 World Cup(only one of three local players in the squad).
He is regarded as one of the finest defenders to ever play in the local league.