Former Ghana International Derek Boateng has advised Thomas Partey on what to consider when making the next move in his career.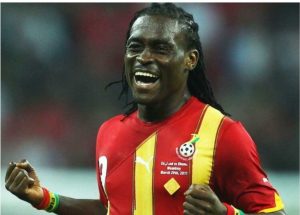 Derek Boateng in an interview with SportsworldGhana.com was full of praise for the Ghanaian midfielder and urged him to make the right decision.
"For me as a senior brother, as experience player [sic], I like him a lot, he's such a respectful player and wherever he is right now he deserves it," Boateng told SPORTSworldGhana.com"
"I personally want him to play at where he would be happy, we all know that he is playing every game at Atletico Madrid, we don't know what is going on there, he only knows what is going on there and can explain things better but the premier league is also a good league for him to play but at the end of the day you have to play at where you will be happy and also respected,"
"About seven people have even sent me messages on Instagram that I should advice Partey to move to Arsenal but the best advice I can give him is that he should play at where he will be happy, if Atletico Madrid is making him happy and he is playing week in week out then he should stay there, play and enjoy the game,"
Thomas Partey has been in the news in recent weeks with a host of speculation linking him to top European clubs like Arsenal.
With him being coy on signing a new deal at Atlético, these rumors are expected to intensify in the next few weeks until a decision is made.