Former Black Stars defender Jerry Akaminko has defended former teammate John Boye for infamously 'kissing cash' in the Brazil 2014 World Cup saga.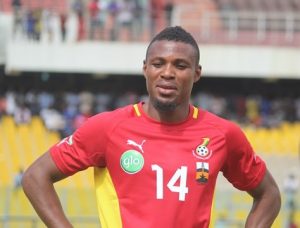 Speaking to Citi TV's Benjamin Nketsia, Akaminko explained the actions of his teammate and rather questioned the officials of the Ghana Football Association for the delay in payment of the money.
"He wasn't wrong," he said
"The way football fanatics see these things is not the way we see it as athletes," he continued.
"For some one to work that hard and not get his money but receive later at that time," he added.
"It was a different feeling and I am sure he did that for the camera.John Boye has seen a hundred thousand before maybe even more.If the players had received their money earlier nobody would have seen John Boye kissing the money," he lamented.
Jerry Akaminko was part of the. black Stars' preliminary squad ahead of the 2014 FIFA World Cup in Brazil. He however got injured in a warm up game against the Netherlands and missed the tournament.
That injury seemed to be a very heartbreaking one as Jerry never recovered and has since not made an appearance for the Black Stars.
The Black Stars however went on to Brazil 2014 and ended the tournament in disgrace with their campaign being plagued by several scandals and  team disputes in camp.