Ecuador international Moises Isaac Caicedo Corozo continues to make waves for both club and country and is already one of the biggest superstars in Chelsea.
The Ecuadorian who is now the third most expensive player, is a defensive midfielder for Premier League club Chelsea and the Ecuador national team.
His parents, especially his mother, have stood by his side since the beginning, and now they play a crucial role in his brand – but who are they?
Moises Caicedo parents
Moisés Isaac Caicedo Corozo was born 2 November 2001 in Santo Domingo to his parents Mrs. Carmen Corozo (Mother)& Mr. Caicedo Corozo (Father).
Moises Caicedo parents were both football fans and helped their son on the early stages of his footballing journey.
Born in Santo Domingo, the youngest of ten siblings, Caicedo would play football on the scrubland pitches of his hometown, the Mujer Trabajadora neighbourhood, where goals were marked out by piles of stones.
As a child he met local football coach Iván Guerra, who would help Caicedo and his family by paying for his football boots, travel and food.
"My parents always made an effort to give us what they had, and the truth is that I feel happy to have them as parents because they never left us alone, they were always there" he told Star Plus.
What work does Moises Caicedo parents do?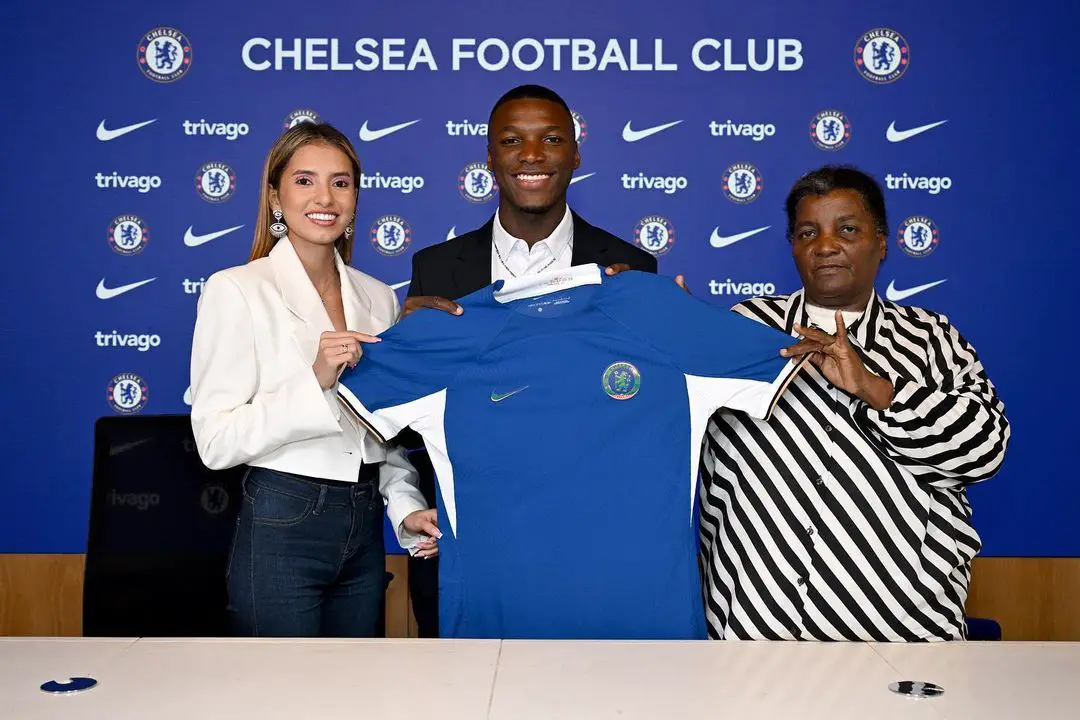 During the interview with Star Plus, the young player revealed what his parents did before, since he comes from a very humble family.
His dad worked on a tricycle, racing, while his mom washed the neighbors' clothes. "That income was for food and to give them a roof," account.
"Our house was very small, but we settled down to sleep. So we never lacked a roof, because my parents always made an effort so that water did not enter the house ", delimits the youngest of ten siblings.
Carmen Corozo, Moises Caicedo's mother
On August 2023, Moises Caicedo completed his transfer to Chelsea with his mother starring in his presentation.
Caicedo and his mother went memory lane in the brilliant video which showed the 21-year-old pictured in a Chelsea kit as a teenager with his mother.
The video posted by Chelsea on the official X.com account begins with the mother, Carmen waiting for her son at the back of a car with Chelsea's colour before both embraced.
"Today is the day, my son," she said to Caicedo. 
"Mom, do you remember when that photo was taken?" Caicedo quizzed the mother.
"Yes, son, i remember. It was in Cayambe in 2020," she replied. "A lot of time has 0assed since then but finally it's happened," Moises added.
Impossible not to smile. 💙 pic.twitter.com/k6Vn14G4za

— Chelsea FC (@ChelseaFC) August 14, 2023