Kai Jones parents have played a crucial role in his journey as a basketball player, and he has always had the support of his family.
He has achieved great success in the NBA, and his hard work and dedication to the sport are undoubtedly the results of his upbringing and his parents' support.
He became the third Bahamian in the last five years to be drafted into the US' National Basketball Association (NBA).
Before marking his footprint in the NBA, Kai pursued a career as a long jumper in his home country, Bahamas
This piece will take a look at his entire family, including his parents, siblings, and even his relationship status.
Who are Kai Jones parents?
Kai Jones parents are Kasprintina Ellis, and father, Deyvon Jones.
Kasprintina Ellis and Deyvon Jones gave birth to Kai and Kaden.
Kai born on January 19, 2001 is the eldest son of his mother, Kasprintina Ellis, and father, Deyvon Jones.
Are Kai Jones parents together?
According to playersbio.com, Kai's parents Kasprintina Ellis, and Deyvon Jones became legally separated when he was just a child.
After the separation, Kasprintina was solely responsible for looking after her eldest and youngest sons, Kai and Kaden.
Despite breaking up, Kai's mother and father stood by their son throughout his career.
They supported his wish to become an NBA player and now are happily seeing him fulfill all his dreams.
Kai Jones Father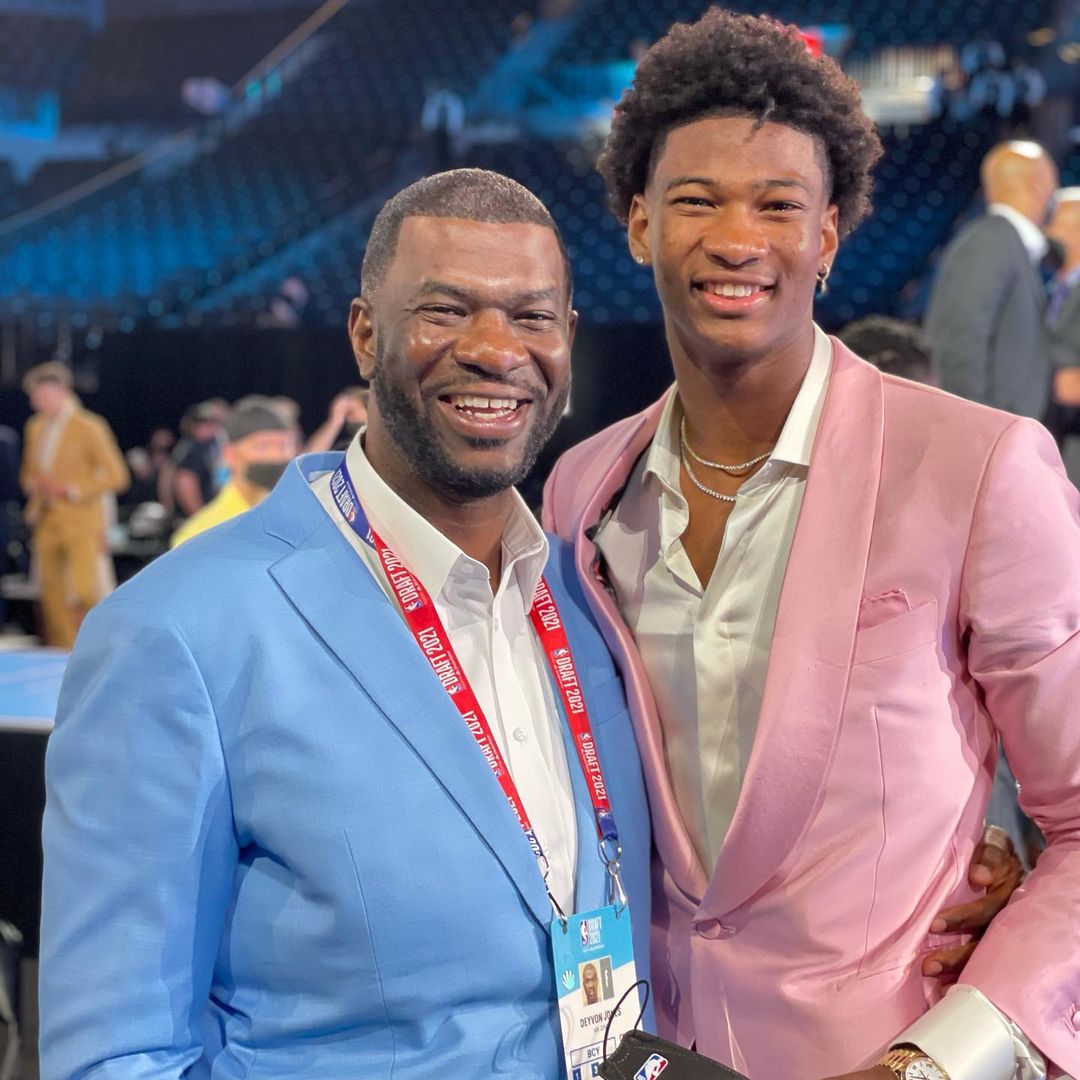 Kai's father, Deyvon Jones, is remarried and has three children from his second marriage.
They are Liam, Dykan, and Luke Jones.
Amidst this, Kai has a good relationship with his father.
Deyvon supports his son's career and is often seen attending Kai's games.
Kai Jones mother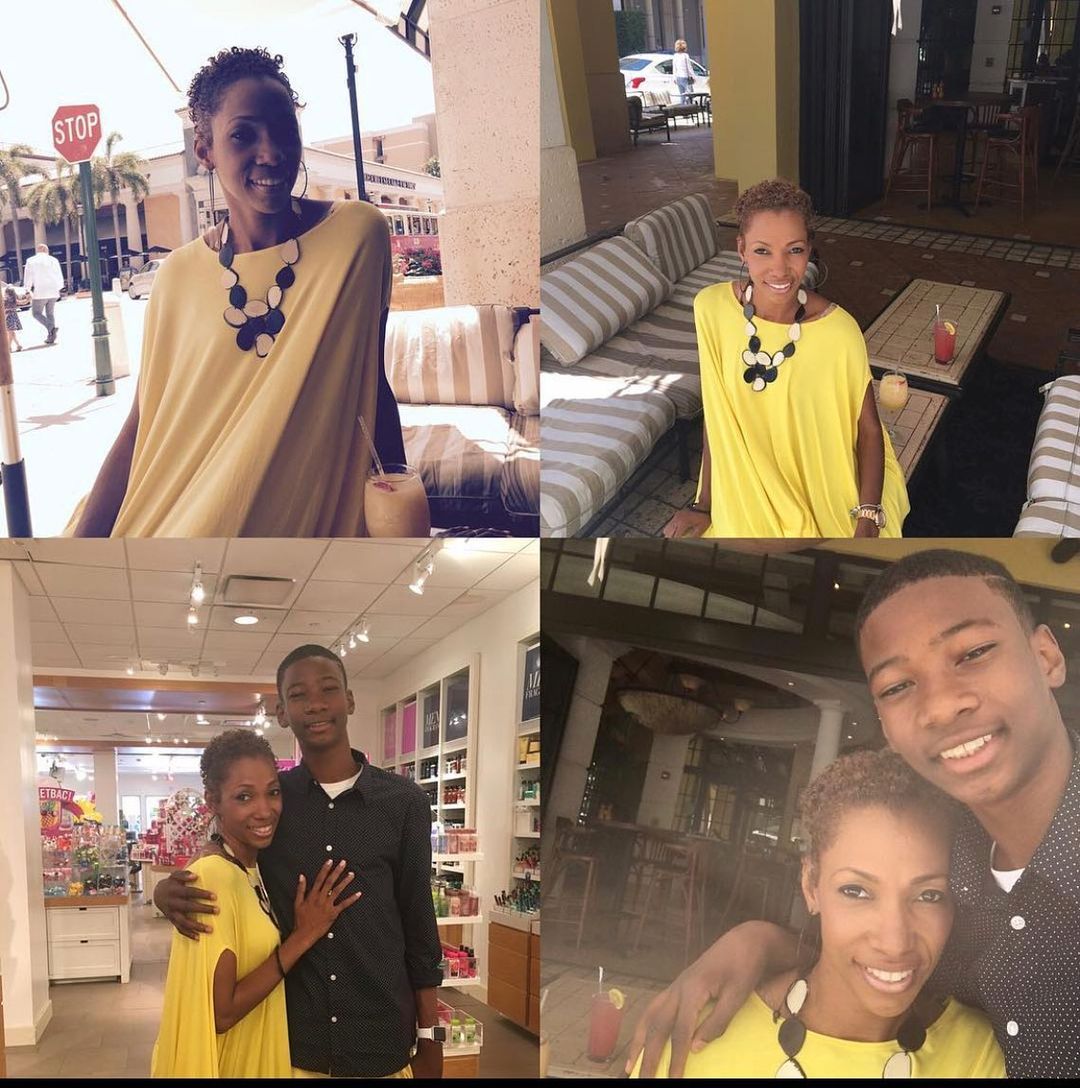 Kasprintina Ellis is a proud single mother who raised two athletic and talented sons on her own. Being a dedicated and devoted mother was not without its challenges.
Following her divorce, Kasprintina struggled to put the pieces of her life back together, but she knew she had to so quickly for the sake of her children.
She understood that her sons' well-being and future would be determined by how stable she was as a mother.
In pursuit of her educational aspirations, Kasprintina packed her bags and moved her children to the US.
Kas stated in an interview with Tribune Woman that going through a divorce while still being a mom was the most difficult.
#"One of the most difficult periods I would say was in 2016 when we returned to the Bahamas. In 2012, I left Nassau with Kai and Kaden…I went on a faith move…to complete my degree," she said.
#During this time, she enrolled her sons in school in the US. Kai at this point had shown considerable interest in and talent for playing basketball.
#"One summer I enrolled him in basketball camp in Florida. He really developed a different love and passion for basketball. Then a coach said to me, 'This boy can do great things in basketball. He just needs to keep working at it.' Then in his first year of high school he tried out for the basketball team and did not make the team. Then he tried out for the second year, and he made the team. He played for the high school team and it became like an addiction, he wanted to become better," she said.
 

View this post on Instagram

 
The family had settled into life in the US when Kasprintina experienced troubles with her visa that resulted in their "little trio" having to move back to the Bahamas.
#"Due to some challenges with my visa renewal, my reinstatement, I left Florida to come home for 10 days. On our way back we were denied entry into the US. I had to wait and was told to re-apply for my student visa. We were denied. That left me in a situation where I had to start my life over. Everything that I had was in the US. We were uprooted," she said.
#They found themselves back in the Bahamas, but with no place to live, no money, no job and no a direction in sight. Initially, they stayed with Kasprintina's mother.
#"Life started from scratch. It was horrible. It was as if I was sinking. It felt every time I progressed, I was going back ten steps," she said.