The alleged wife of Francesco Marlett, the Maryland police officer who was caught on camera making out with a woman beside his cruiser before climbing into the back seat with her has been identified as Paula Marlett.
Paula Marlett's identification surfaced on Facebook when she reacted to the news of her husband's indiscretions.
She shared a post on her profile with the caption, "There goes my husband and his Mistress".
In a subsequent post, she expressed her gratitude to everyone for their support during this challenging period for herself and her children and also said she wouldn't update anyone on this situation after today.
Read her post below
"Thank you everyone. Yes this is a very tough time for me and my kids. As embarrassing and painful as this is please check in on us. We need the support the love and most of all the respect from the community and our families. Yes I know what's been going on. No, I am not updating anyone on this situation after today. Virginias husband left her ass a long time ago bc she cheated so she and my husband decided to do this behind my back for years. I'm not seeking anyone else's input, I don't need anyone's opinion. My life is my life. I will make decisions according. I Love you all. Except for you Virginia you can rot in hell bitch. ↪️Virginia Pinto"

She further revealed that the name of her husband mistress is Virginia Pinto.
Francesco Marlett viral video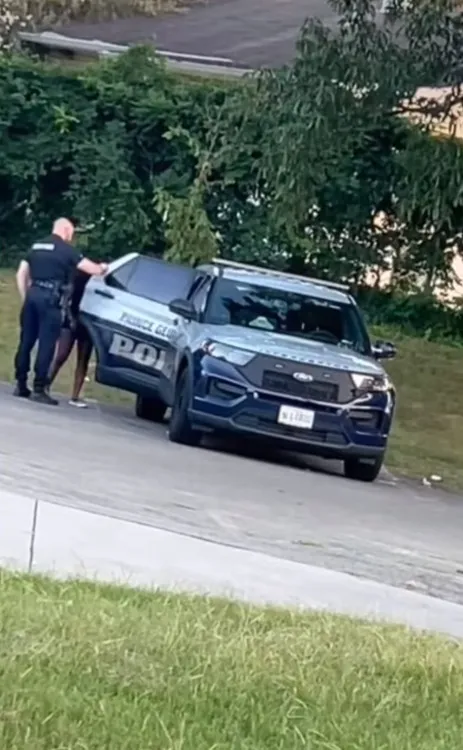 Prince George's County Police officer Francesco Marlett was unmasked on Tuesday after a video of the incident went viral, appearing to show him kissing the woman in a public park filled with children.
'The officer has been identified. His police powers are now suspended as the investigation continues,' PGPD said in an update.
It is at least the third suspension for Marlett, who was suspended without pay in 2016 when he was charged with child abuse for allegedly knocking his then-girlfriend's three-year-old boy unconscious – a charge that was later dropped for reasons that are unclear.
He was also suspended for one month in May 2023 after being accused of domestic violence, but returned to duty in June, WBFF-TV reported.
In May 2016, he was indicted on one count of second-degree child abuse and one count of second-degree assault stemming from a December 2015 incident.
Prosecutors alleged at the time that he was watching his girlfriend's three-year-old son on December 27 while she was making dinner, and began spanking her son after he soiled the bed.
His latest suspension comes after shocking video showed the uniformed cop kissing a scantily clad woman in a park, and then climbing in the back of his cruiser with her.
The video first shows the pair kissing as the woman touches the officer's head. The woman then heads to the back of the car, with the officer's arm around her.
'As soon as we became aware earlier today, we opened an investigation to determine the circumstances,' the department tweeted on Tuesday.
'Additional information will be released once investigated and confirmed.