Efia Odo has disclosed why he tagged his erstwhile bestie Shatta Wale as a thief.
According to her, the Shatta Movement boss took for himself, a business partner that she once connected him to.
Real name Andrea Owusu, she made this revelation in a Q&A session she tagged "AskOdo" with her fans on Twitter.
This was when a fans posed the question "Y did u say shatta wale is a thief"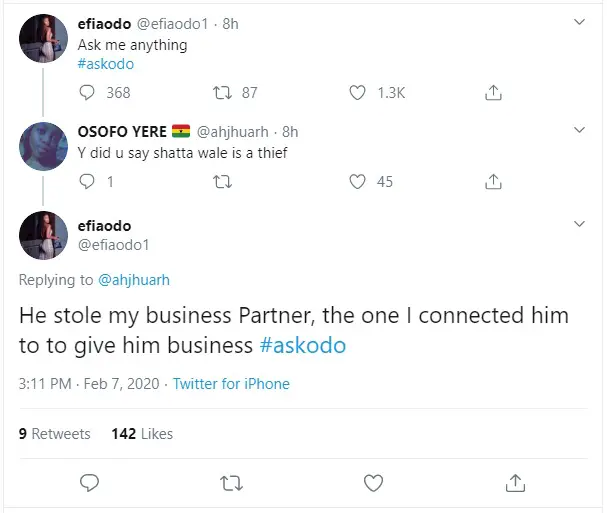 Efia Odo and Shatta Wale were very close friends, although it was short-lived.
During this period, they were seen in different videos and photos hanging out together.
Reports available to PlugTimes.com reveals the South Africa Wines Ghana shop is the business under consideration. This is in view of the fact that it popped up in their recent Twitter banter.
This news source also understands Shatta Wale is now the face of the wine shop. And Efia Odo who was the known face behind the shop, before, during, and shortly after it was launched in November 2019 is no longer at post.