The Confederation of African Football (CAF) have slapped the Ghana Football Association with a fine for pitch invasion in a CAF AFCON 2021 qualifier.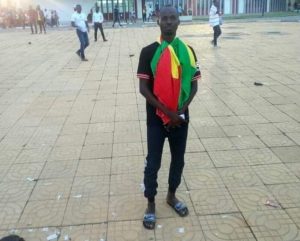 The pitch invasion incident occurred at the Cape Coast stadium in November 2019 in the AFCON 2021 qualifier between Ghana and South Africa.
the invader,  Awal Suleiman run into the pitch late in the second half with the score at 2-0 to Ghana.
Suleiman,  who was then reported to be a student at the University of Cape Coast,  sprinted on the pitch and haltedlay for some 3 minutes.
he was then apprehended by the security officials and then later prosecuted and fined an amount of ¢2,400.
CAF however did not take the issue lightly and have retrospectively fined the Ghana Football Association to a tune of $10,000.
Speaking after the news,  the GFA General Secretary,  Prosper Harrison Addo was livid and called for fans go do better to avoid such fines.
"There is a need for lovers of our national teams to behave appropriately within the laws of game. This is really important because our actions have consequences for the GFA and the State at large," he said. 
"We will continue to educate the patrons of the game but there will be mechanisms to ensure that fans who cause the Nation to lose money in this manner are brought to book," said General Secretary Prosper Harrison Addo.
The Ghana national team the Black Stars sit top of the qualifying group with 6 points.