Ashantigold defender Eric Donkor has called for the annulment of the Ghana Premier League due to the COVID 19 pandemic.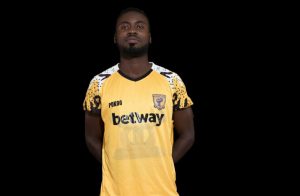 Eric Donkor, who has been a regular in the Ashantigold setup this past season has raised concerns about the financial implications of the COVID 19 pandemic.
The former Asante Kotoko defender was speaking in an interview with OTEC FM when he made those comments.
Before the 2019/20 was started, they (FA) planned to synchronize our league calendar with that of the Europeans. Looking at the situation now, the league should be cancelled." Eric Donkor told OTEC FM.
"We've not been active for some months now and we need a lot of preseason or strengthen works to recover which can prevent us from injuries if the FA decides to continue in August,"
"Personally, I'm not sure we can continue the league. COVID-19 still exists and we need to put in measures before, how prepared as a nation if we decide to continue the league? Is a question we must ask ourselves."
The Ghana Premier League was suspended on Matchday 15 after the government placed a ban on public gatherings due to the spread of the COVID 19 pandemic.
There have been several calls for the league to be annulled but the FA insists it will not rush into taking any decision.