The individual responsible for the shooting at Denver East High School, which injured two adult faculty members, has been identified as Austin Lyle, a 17-year-old who is currently evading authorities and facing charges of attempted homicide.
Austin Lyle, described as a 5-foot-5-inch Black male weighing approximately 150 lbs with black hair and brown eyes, was last seen wearing a green hooded sweatshirt.
Additionally, police believe he is associated with a 2005 red Volvo XC90 with Colorado license plates BSCW10.
DPD said officers know the student's identity, including where he lives and who his family members and associates are.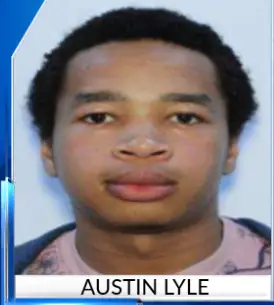 The two victims, who have not been named, were transported to Denver Health Medical Center for treatment.
The shooting took place at approximately 9:50 am, prompting a swift police response that included a campus lockdown and perimeter establishment.
One faculty member is in stable condition, and the other is in critical condition, police revealed.
"This school has gone through a tremendous time over the last year or so," Chief Thomas said about East High School.
Denver Mayor Michael Handcock said paramedics also treated a student who had a "visceral reaction to the tension of the moment."
He added that paramedics were already in the building at the time of the shooting, allowing them to provide treatment immediately.
"That I think will play a huge role in their ultimate recovery from this and we'll keep them in our prayers. We want to thank our first responders," he said.
Superintendent Alex Marrero said that East High School will remain closed for the rest of the week.
Marrero informed parents and faculty that two armed officers will be posted at the school for the remainder of the academic year.
The shooting comes over a month after student Luis Garcia was gunned down outside of East High School on February 13.
Fact Check
We strive for accuracy and fairness.
If you see something that doesn't look right, email us at  [email protected]