Samantha Miller and Aric Hutchinson's wedding day turned into a tragic event when they were involved in a fatal car accident.
According to reports, the couple was leaving their wedding reception in a golf cart when they were hit by a speeding drunk driver.
Samantha Miller was killed instantly, while Aric Hutchinson was left in critical condition.
The Folly Beach Police Department said a vehicle rear-ended a golf cart on Friday at around 10 p.m. EST, killing Samantha Miller, 34, of Charlotte, North Carolina.
The couple was reportedly leaving their wedding reception at the time of the crash.
The Charleston County Coroner's Office on Monday said Miller died at the scene from blunt force injuries.
Her husband, Aric Hutchinson, along with two others, were hurt and are currently hospitalized.
Authorities said Jamie Lee Komoroski, 25, was driving the vehicle that hit the golf cart. She was the sole occupant, while the golf cart had four occupants.
Komoroski, who was not injured, was charged with three counts of felony DUI resulting in great bodily harm/death, as well as one count of reckless homicide. An investigation into the crash determined she was going 65 mph. at the time she struck the golf cart.
What we know about Samantha Miller, and Aric Hutchinson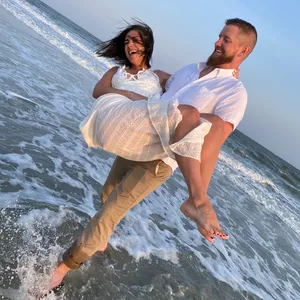 Samantha Miller was a newlywed bride, and her untimely death has left her friends and family in shock and mourning.
She was 34 years old and originally from North Carolina.
Her occupation and educational background are unknown at this time.
It is clear, however, that she was loved by many and will be deeply missed.
Aric Hutchinson, the groom, was also involved in the accident and left in critical condition.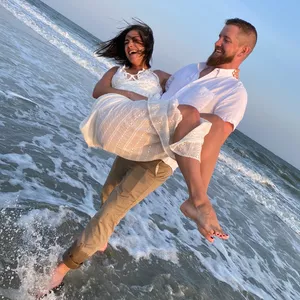 He is 36 years old and originally from Utah.
He graduated from Bonneville High School in South Ogden and played college football for Snow College and Utah Tech.
Aric Hutchinson holds the position of Account Manager at Tucker Kirby, a construction company that deals in concrete, masonry, waterproofing and geotextiles for the residential, commercial and industrial building.
According to his LinkedIn profile, he previously worked at Hohmann & Barnard, Inc. where he held various roles such as Regional Technical Sales Manager, Product Development Specialist, and Sales Representative.
The couple made their home in both the groom's home state of Utah and the state of South Carolina.
Fact Check
We strive for accuracy and fairness.
If you see something that doesn't look right, email us at  [email protected]