Mandy Ofori Sarpong is a Ghanaian lawyer and the daughter of Dr. Ernest Ofori Sarpong, CEO of Special Ice.
Let's see what we can dig out about Mandy Ofori Sarpong, shall we?
How old is Mandy Ofori Sarpong?
Mandy Ofori Sarpong celebrates her birthday on 22nd April every year.
She is assumed to be born in the 1990's though it isn't clear the exact year.
Be sure to get an update from us should we get any information about her exact age.
Mandy Ofori Sarpong educational background
She started her basic education at Merton International School from 1997 to 2006 but completed her Basic Education Certificate Examination at Faith Montessori School from 2006 to 2009.
After completing Faith Montessori School, Mandy Ofori pursued Business at Wesley Girls High School, one of the best girls' schools in Ghana in 2009 – 2013.
Mandy Ofori aside the aim of obtaining great excellence in academics joined some organisation in Wesley Girls.
Mandy was the Organizing Secretary of Ghana United Nations Students And Youth Association (GUNSA).
Mandy Ofori Sarpong is a product of Kwame Nkrumah University of Science and Technology, Kumasi.
In her years in KNUST, Mandy was part of the SRC and NUGS-KNUST executives.
Mandy Ofori Sarpong became victorious even amid her roles in some organisations on campus in 2013 – 2017 graduated KNUST with a 1st Class honor.
Law School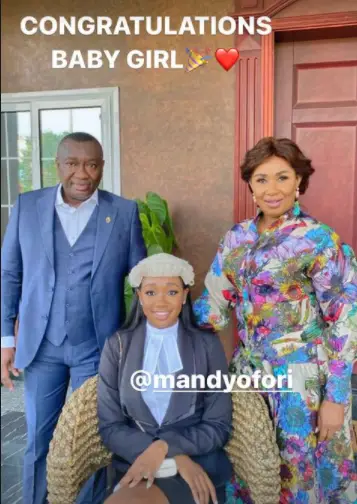 Mandy Ofori Sarpong graduated with her master's degree in law at The University of Law from checks sighted by ghlinks.com.gh on her LinkedIn profile.
She graduated on 17th December 2020.
The University of Law is one of the UK's longest-established specialist providers of legal education.
A glimpse of Mandy's graduation ceremony, captured in trending online images, showcases the presence of Madam Serwaa Ofori Sarpong and Dr. Ernest Ofori Sarpong.
Mandy Ofori Sarpong's career as a lawyer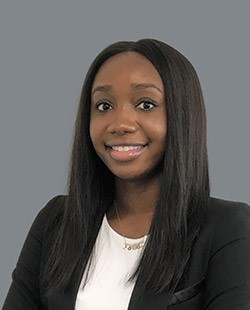 Mandy Ofori Sarpong is an Associate at ENSafrica l Ghana.
Mandy specialises in project finance, banking and finance, tax, energy and petroleum law.
Her experience includes advising commercial banks in relation to loan facilities and other commercial entities in the banking and financial sector with regulatory matters.
She has also advised companies across various industries on the tax implications applicable to a broad range of transactions.
In addition, Mandy is also experienced in advising on commercial property transactions involving drafting agreements and conducting due diligence investigations, as well as the financing of major infrastructure projects and has advised clients in a number of industries including multinational banks and oil and energy companies.
Mandy is a member of the Ghana Bar Association.
Mandy Ofori Sarpong's marriage
On Thursday, October 5, 2023,  Mandy Ofori Sarpong got engaged to her partner, George in a plush traditional ceremony.
The event is being organised at East Legon and was filled up with high-profile personalities.
Among the rich and famous people gracing the wedding of Mandy, who is a lawyer by profession, is her father's associate, Osei Kwame Despite. Other members of the East Legon Executive Club joined the businessman.
Also present were NPP flagbearer aspirant Kennedy Agyapong and businessman Ibrahim Mahama.