Ex- Black Stars coach, Kwesi Appiah has clarified statements he made on the rotation of the black stars captaincy.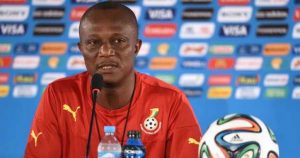 Speaking in an interview some days ago, coach Kwesi Appiah suggested the Black Stars adopted the captaincy rotation tactic that has worked for countries like Brazil.
However, his comments seem to have been taken out of context with some claiming he suggested we adopt that now.
However, in an interview with ATL fm, Kwesi Appiah cleared the air on his earlier comments.
"I was a not saying Ghana should adopt the captaincy rotational policy now since it will make no sense because Andre Ayew has just been handed over the arm band," he told ATL FM.
"I was suggesting that if there are captaincy challenges in the team in future then we can try the rotational policy, may be it could work for us.
He further said "I was not advising the current head coach as purported in the media to change the captain but I was suggesting an option should we find ourselves in the same soup in future as country."
Kwesi Appiah was sacked as Ghana coach 3 months ago and replaced with CK Akunnor, who served as his assistant for the last two games of his tenure as Black Stars coach.