27-year-old Rayshard Brooks, was shot during a struggle and died after surgery at a local hospital in Atlanta, according to the Georgia Bureau of Investigation.
According to the Georgia Bureau of Investigation, Police were dispatched to the fast-food restaurant just after 10:30 p.m. in response to complaints that a man was asleep in his vehicle at the drive-thru, and customers were being forced to drive around Brooks' vehicle.
Rayshard Brooks resisted arrest and struggled with officers, one of whom used a Taser on him.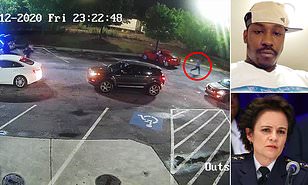 Based on witness reports, GBI said that Brooks grabbed the Taser and was shot as he struggled with the officer over the weapon.
Is It Advisable To Post Your Partner On Social Media ?
In a video from the scene that was shared on Twitter, Brooks can be seen in a struggle with officers. He appears to get a hold of the Taser and fires it at them before running away.
Police chase Brooks with a Taser and gun before he is shot outside of the camera's frame.
Watch Video Below