What You Need to Know About GES Recruitment 2022
A portal for the recruitment of staff into the Ghana Education Service will soon be open.
The Ghana Education Service (GES) will be in need of approximately 40 thousand ninety-three (40,093) Ghanaians to staff their classrooms starting in November.
At a meeting with the leadership of the Newly Trained Teachers Forum (NTTF), on 21st October, the Deputy Minister of Finance explained the reasons behind the delay in issuing financial clearances to recruit Newly Trained Teachers.
Abena Asare Osei, Deputy Minister of Finance, revealed that the Ministry of Education presented 40,093 people for recruitment into the Ghana Education Service (GES), an increase over the previous years' figures.
These recruits will be drawn from 46 accredited public colleges and Universities.
There is a delay in the recruitment process because the Ministry of Finance is making provision to include all the categories mentioned.
Her assurance to the Newly Trained Teachers Forum Executives was that all qualified teachers would be hired and the financial clearance for the hiring of new qualified teachers will be issued in November.
Ghana Education Service recruitment categories 
Teaching staff: These are individuals who are directly responsible for tutoring students in schools. 
Non-teaching staff: Support staff for teachers. These people do not teach students.
GES graduate recruitment requirements 
A Bachelor's Degree in Education is required. 

National Service Training is also required. 

A certificate of passing the Teacher Licensure Examination is required. 

You must be prepared to work in any part of Ghana where GES decides to post you.

 Priority is given to applicants with high-demand subjects such as Early Childhood, French, TVET, and Sciences. 
You will not be shortlisted if you do not meet any of the GES recruitment requirements. 
You will need the following documents.

Your birth certificate 

Junior high certificate (BECE) 

Senior high certificate (WASSCE) 

NTC certificate 

TIN or SSNIT number 
GES recruitment 2022 of university graduates procedure 
Follow the following steps to declare your candidature
Buy a voucher: The voucher costs GHC 5 – Use the following procedure
Go to the promotions portal: Use the official address.
Tap "Click to Buy": Once the website fully loads, you will see this button under the eVoucher Card Tab. Click on it.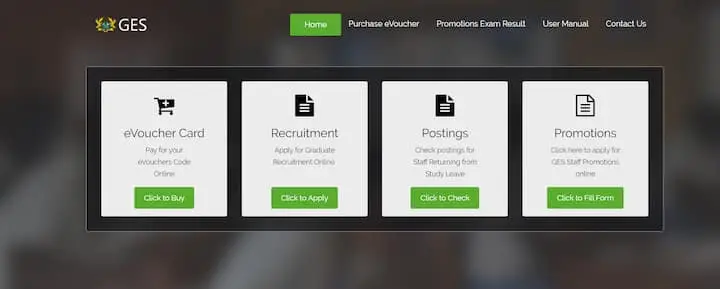 Select the type of voucher: This should be an application eVoucher, which costs GHC. 5.
Select your mobile money network: This could be either Vodafone, Tigo Cash, Airtel Money, and MTN Mobile Money.
Specify your phone number: Type in your ten-digit correct phone number and move to the next step.
Enter your email: Ensure it is correct as you will use it to log in to the portal.
Click "Submit": Wait for the transaction to be approved. As you do so, go to your mobile wallet and approve the transaction. 
If the procedure was successful, you will receive an SMS containing your voucher code. 
Start the application: Go to the "Graduates Recruitment" tab and tap on the green button below to start your application. 
Log into your account: User your eVoucher code and email to do so. 
Fill in your personal details: You will be asked for your age, name, address, contacts, nationality, languages, and so forth. Make sure you enter the details correctly. 
Fill in your academic details: List all the qualifications you have, your teaching experience, and so forth. 
Specify your subject preferences: Choose your first, second, and third subject preferences. You should only select these based on what you studied. 
State your non-teaching experience: If you have previously worked in any industry not related to teaching, be sure to list that under this section.