Police have officially identified Freddie Lee Trone as the suspect in the murder of PnB Rock.
About some weeks ago, ghlinks.com.gh reported that PNB Rock, was shot during an armed robbery at a South LA Roscoe's Chicken & Waffles on Monday, September 12th.
Pnb Rock was dining with his girlfriend Stephanie Sibounheuang, who was also his child's mother when he was killed.
Freddie Lee Trone Wanted By Police
The Los Angeles Police Department on Wednesday released the name and photo of the man suspected in the brutal killing of rapper PnB Rock.
LAPD investigators named Freddie Lee Trone as the suspect in the deadly shooting.
They believe he approached the rapper, demanded his jewelry, and proceeded to shoot him several times in front of the rapper's girlfriend, along with terrified patrons and staff.
Read press release from LAPD Investigators below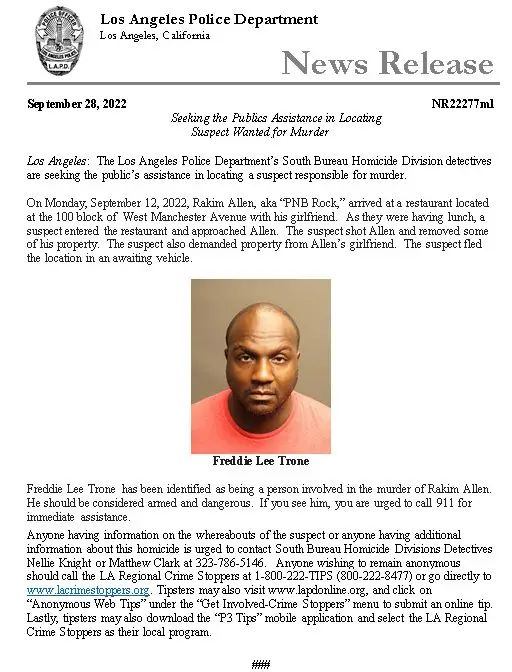 On Monday, September 12, 2022, Rakim Allen, aka "PNB Rock," arrived at a restaurant located at the 100 block of West Manchester Avenue with his girlfriend. As they were having lunch, a suspect entered the restaurant and approached Allen.
The suspect shot Allen and removed some of his property. The suspect also demanded property from Allen's girlfriend. The suspect fled the location in an awaiting vehicle.
Freddie Lee Trone has been identified as being a person involved in the murder of Rakim Allen.
He should be considered armed and dangerous. If you see him, you are urged to call 911 for immediate assistance.
This is a breaking news story. Please check back for updates.
Fact Check
We strive for accuracy and fairness.
If you see something that doesn't look right, email us at  [email protected]