Philadelphia rapper PnB Rock has sadly passed away after he was wounded during a robbery gone wrong.
Graphic video shared on social media showed PnB Rock, real name Rakim Hasheem Allen, laying in a pool of blood surrounded by security and employees.
The Los Angeles Times reports that law enforcement sources informed the newspaper that the Philly rapper, did not survive after being shot at Roscoe's House of Chicken'N Waffles in Inglewood, California.
Additionally, Los Angeles police Capt. Kelly Muniz said the shooting took place at 1:15 p.m. local time and that a suspect brandished a firearm inside the restaurant and demanded items from the victim. Sources told The Times that Rock was targeted for his jewelry.
"He shot the victim and ran out the side door to a getaway car and then fled the parking lot," she said. Muniz added that the victim was transported to a hospital and pronounced dead at 1:59 p.m. PST.
Stephanie Sibounheuang Location: Rapper was dinning with his girlfriend
PnB Rock was dining at the restaurant with his girlfriend, Stephanie Sibounheuang — who posted and then deleted a location-tagged photo of the couple's meal on her Instagram Story — when a shooting occurred at 1:23 p.m. PT.
Some have speculated that this may have tipped off the shooter's to the rapper's whereabouts.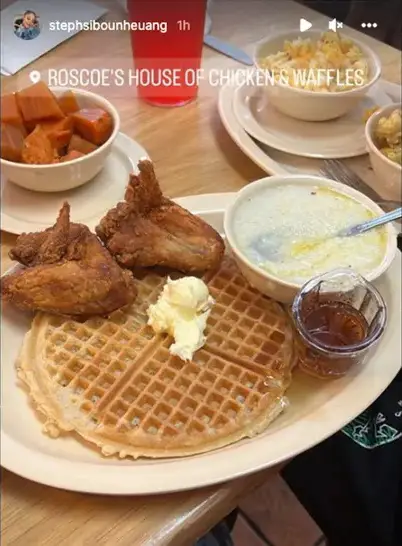 Who was PnB Rock?
PnB Rock is originally from Philadelphia but he has been staying in LA for a while now.
PNB Rock, who had his biggest hit in 2016 with "Selfish," was working on new music.
Just a week ago, he put out a song called "Luv Me Again," which was produced by D.A. Got That Dope.
At the top of the year, the rapper released a project called SoundCloud Daze.
Fact Check
We strive for accuracy and fairness.
If you see something that doesn't look right, email us at  [email protected]