Former Hearts of Oak, Aduana Stars and Black Stars forward, Bernard Don Bortey has officially announced his decision to retire from the game of football.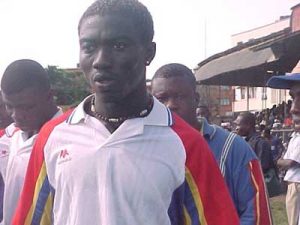 Bernard Don Bortey,  who lighted up the Ghana Premier League in the late 90s and early noughties was part of the exciting Hearts of Oak team earlier in the century.
He joined hearts of Oak from GHAPOHA FC in 2000, after the Phobians had defeated Esperance to win the CAF Champions League trophy.
Having missed out on that, he was however in time for the phobians' super cup victory later that year.  He was also part of the Hearts team that won the meaiden edition of the  CAF Confederations Cup.
Speaking in an interview, Don Bortey said;
"I'm not God. Maybe where I reached was the stage God wanted me to finish it for someone to come and continue. I have pain in me but it's past," the former winger said. 
"I have to put it behind me because I have three kids who are all playing football, so I have to focus on pushing them. I could not do it but maybe they can do it for me."
"I want to be a coach now. I've retired. I was not 100 per cent sure but I have done it.
"I'm still playing football but not competitively. I don't want to play any more competitive leagues like the Ghana Premier League because I have made the name already."
Don Bortey also represented Ghana at all levels, including an impressive 20 caps with the senior national team, the Black Stars.
"Everybody knows my name in Ghana football. So I have to leave for the young ones to take over. Now, I'm a coach. I'm not a footballer anymore. I've retired, "he concluded.
He finishes his career with 4 Ghana Premier League titles, 1 CAF Super Cup and one CAF confederations cup trophy.