"If Partey joins Arsenal, I will be happy for him"- Nuhu Adams
Black Stars Defender, Kasim Nuhu Adams has welcome any possible move for his national teammate Thomas Teye Partey to the English Premier League.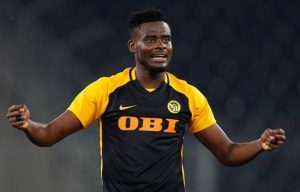 Kasim Nuhu Adams, who is spending the season at  Düsseldorf in the German Bundesliga was full of praise for his friend and teammate in the wake of rumours linking him to Europe's elite club.
Speaking in an interview with TV3's Juliet Barwuah, Kasim Nuhu Adams, who is a close friend of Thomas Partey had a lot to say about his friend.
Atletico Madrid is a very good club so he is playing one of the biggest clubs in the world and Arsenal is also one of the biggest," Nuhu told TV3 in a live Instagram conversation anchored by Juliet Bawuah.
"For me, it is his decision because playing in Atletico Madrid is the same as playing in Arsenal. The two teams always make the same category in the league fighting for the 3rd and 4th place to play in Champions League but as we all know the Premiership is the best league in the world so if he joins Arsenal, I will be happy for him."
He has been my friend for very long time and anything he does or choose we will support him and we will pray for him do that he will make us proud," he added.