Black Stars Coach, Charles Kwabla Akunnor has once again reiterated the big role of former boss, Kwasi Appiah in his managerial journey to the national team.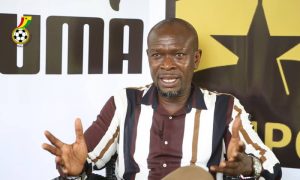 Speaking to the communications department of the GFA,  CK Akunnor once again expressed gratitude to the former Black Stars coach , Kwasi Appiah for his role in making him assistant before becoming coach of the national team.
"I went to him [before taking up the job] because before he got me to assist him there was a lot of discussion between us. I told him my opinion and what I stand for, he accepted that in good fate and so once he is no more the coach, there was the need to for me to give him that respect. Because truth be told, he is the one who got me there, nobody did."
"It's a miracle for me to be his assistant and within two months and after two matches, I am the head. It can only be a miracle, nobody [else] got me there and so I have to give him that respect and I will continue to give him that respect."
CK Akunnor was scheduled to make his managerial debut at the dugout of the senior national team but with a halt on all sporting activities in the world due to the global COVID 19 pandemic, he would have to wait a little longer.