Zaniar Matapour, the terror suspect charged with killing two people and injuring 21 more at an Oslo gay bar last night has been named as a 42-year-old ex-plumber born in Iran.
Zaniar Matapour was born in Iranian Kurdistan before coming to Bergen, Norway as a refugee at the age of 12.
He was charged early this morning with two murders, attempted murder and terrorism after the homophobic terror attack at city centre LGBT+ haunt London Pub.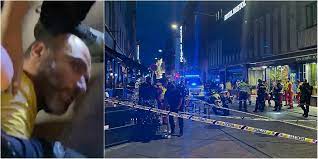 Zaniar Matapour was on the police radar back in 2015 amid fears he had become radicalised and was part of an "Islamist extremist network".
The Norwegian Police Security Service (PST) decided he was "not an imminent threat" around a month ago.
PST's chief Roger Berg said Matapour has a "long history of violence and threats" and had "difficulties with his mental health".
The suspected gunman is now expected to be put under judicial observation to determine his state of mind, his lawyer confirmed.
The rampage unfolded at around 1.14am local time as gunshots rang out.
The venues targeted were the London Pub gay club, the Herr Nilsen jazz club and a takeaway food outlet that was packed with revellers enjoying the warm summer evening.
Matapour was arrested five minutes later and an automatic weapon and a handgun were seized.
Two people tragically could not be saved while 21 others were injured in the horror shooting.
Of these, ten were rushed to hospital, with three of them in a serious condition and 12 more were treated at the scene.
Security services have raised the terror threat level in Norway in the wake of the "extraordinary" attack.
Police are now investigating whether there were further attacks planned during Pride events.