Vince Tobin, who coached the Arizona Cardinals to their first playoff win in 51 years in 1998, has died.
He was 79.
Tobin went 28-43 in parts of five seasons as head coach of the Cardinals from 1996-2000.
He was fired after Week 8 of the 2000 campaign amid a 2-5 start.
He had one winning season in 1998, making the playoffs.
The Cardinals beat Dallas in the wild card game but lost to Minnesota in the divisional round, 41-21.
Vince Tobin cause of death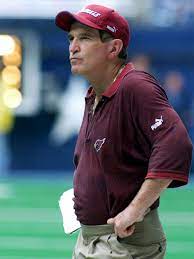 According to ESPN, a cause of death has not been disclosed publicly at this time.
We will update this page once we have enough details about his cause of death.
However, cardinals owner Michael Bidwill released the following statement:
"Our deepest condolences go out to everyone who knew and loved Vince Tobin, and in particular his wife Kathy and their family. As head coach of the Cardinals, his steady leadership was a constant and a big part of the success the team enjoyed during his tenure. His football legacy with us is highlighted by the thrilling 1998 season, return to the postseason, and upset playoff win at Dallas. He will also be remembered for his instrumental role in key decisions like drafting Jake Plummer and Pat Tillman.
"More than that, he was a consummate family man and always a class act who positively impacted everyone he encountered."