Police have named a woman and her two children killed in a tragic horror blaze.
Gemma Germeney, died in the flat fire in Cambridge on Friday along with her daughter Lilly Peden, and Oliver Peden.
Gemma Germeney was 31 years old while Lilly Peden was 8 years, and Oliver Peden was 4 years.
An unnamed man in his 30s who escaped the burning building and remains in a critical condition in hospital is believed to be Ms Germeny's partner, Scott Peden, who is the father of her two children.
Ms Germeney died at the scene, while her two young children passed away later in hospital.
Their two dogs are also believed to have perished in the fire.
Locals described hearing screams as flames burst out of the windows of the family's home on Sackville Close, in the King's Hedges area of Cambridge.
What happened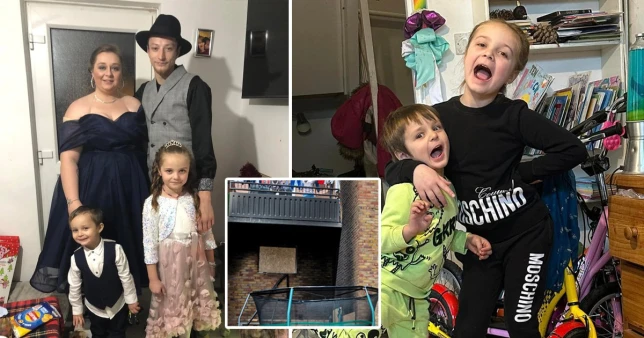 More than 30 firefighters were sent to the two-storey maisonette on Sackville Close, King's Hedges, after being called at 1.08am on Friday.
Crews managed to prevent the fire, which had spread to both floors, from engulfing the neighbouring houses.
Police kept the scene of the tragedy cordoned off as officers, joined by the fire service, attempted to establish the cause of the blaze.
The walls of property have been left charred black, and the windows smashed, as a result of the intense heat and smoke.
Despite fire crews battling to stop the fire from spreading to adjoining properties, a child from a neighbouring home was also taken to hospital.
It is believed that the child suffering from smoke inhalation, but was not seriously hurt.
Another neighbour who asked to stay anonymous said: 'I was woken up by screaming just after 1am and I thought it was someone having an argument.
'A few minutes later, I was woken up properly by fire engines turning up. I looked out of my window and saw flames everywhere. They were coming out of the ground floor window and going up the wall.
'The ambulances could not get near because of all the fire engines. I saw the stretchers being wheeled past to get to the ambulances, and a policeman carrying a child who looked like a boy.
'There were loads of fire engines, two ambulances and police cars. It was just mayhem. I had never seen so many people out there.'
Data analyst Peter Griffin, 30, who lives nearby said: 'I was woken up by the first fire engine – but our neighbour said he heard shouting before that.
'There are trees between our house and the maisonette. I could see the orange glow of the fire. There was also an acrid smell of smoke.
'I think the family who lived in the maisonette had a large dog. It is just an awful tragedy.'
Area Commander Stuart Smith of Cambridgeshire Fire and Rescue Service said: 'This is a devastating and deeply upsetting incident that will touch many people.
'Our thoughts are with the relatives, friends and neighbours of the family. It's just heartbreaking.