Rishi Sunak Wife, Akshata Murthy is a Britain-based fashion designer.
Former United Kingdom Prime Minister Boris Johnson was in crisis after some cabinet ministers, including Chancellor of the Exchequer, Rishi Sunak, resigned.
Also walking out of Johnson's cabinet was Health Secretary Sajid Javed.
Currently, Sunak is considered one of the favourites to succeed Johnson position as the next PM.
 Interestingly, if this happens, he'll make history as the first Indian-origin PM. 
Sunak Murthy's wife Akshata Murthy has also been under spotlight due to the ongoing turmoil.
Who is Rishi Sunak Wife, Akshata Murthy?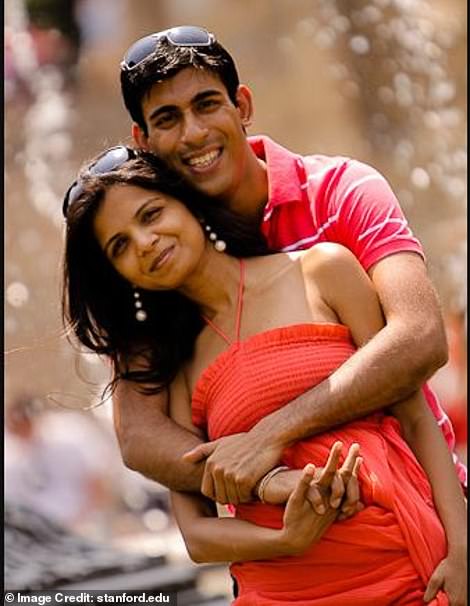 Akshata Murty is a British-based Indian fashion designer who is married to Rishi Sunak,  a British politician who served as Chancellor of the Exchequer from 2020 to 2022.
 She is the daughter of N. R. Narayana Murthy, a founder of the Indian multi-national IT company Infosys, and holds a 0.93% share in the company.
Murty was born in Hubli, and raised by her paternal grandparents as her father N. R. Narayana Murthy and her engineer mother Sudha Murty worked to launch their technology company, Infosys.
Education
Murty was educated in California and studied economics and French at Claremont McKenna College; she has a diploma in clothes manufacturing from the Fashion Institute of Design & Merchandising.
She has a Master of Business Administration (MBA) from Stanford University.
Career
In 2007, Murty joined Dutch cleantech firm Tendris as its marketing director, where she worked for two years, before leaving to start her own fashion firm.
In 2013, she became the director of Indian venture capital fund Catamaran Ventures[3] that she co-founded with her husband Rishi Sunak.
Since 2015, she has owned a 0.93% share of her father's technology firm Infosys, valued at £700 million, and shares in two of Jamie Oliver's restaurant businesses, Wendy's in India, Koro Kids (nanny agency) and Digme Fitness (gym operator).
She is a director of Digme Fitness and the Soroco that her brother Rohan Murty co-founded.
Husband and family
Murty married Rishi Sunak, whom she met at Stanford University, in Bangalore in August 2009.
She has two daughters, Anoushka and Krishna.