A man, alleged to have murdered the mother of his child and then placing her body in a dumpster a few days later, faced a murder charge as he appeared in Salem District Court on Tuesday.
During the court proceedings, prosecutors stated that Pablo Vicente, aged 33, admitted to the killing of his girlfriend, Nayeli Nieves, a 20-year-old mother of two.
Unfortunately, her body has yet to be recovered.
Essex District Attorney Paul F. Tucker said investigators believe they have recovered some of Nieves's remains at a garbage disposal facility, but are still working to "confirm the identity of the remains and… bring the family some comfort."
"These cases are never easy," Tucker said at a press conference. "Anytime a young person, a mother, loses her life… every single one of them stays with us."
Salem police were contacted Monday night by a Lynn police detective who said Vicente's uncle was concerned his nephew had killed his girlfriend and was preparing to flee the country, according to the police report.
Officers found Vicente at his home at 22 Boston St. in Salem, where he agreed to come to the police station for an interview.
Vicente "described at length his tumultuous relationship with Nayeli Nieves that included past domestic violence" and "emphasized that Nieves would routinely cheat on him with other men," according to the police report.
Initially, he told police that Nieves had "run away" with another man and left him behind with her two kids.
He later backtracked and admitted to choking her until she lost consciousness after the two got into an argument in her home at 12 Pope St., according to the police report.
Vicente told police he performed CPR but did not call 911 because "he wanted to spend more time with his children," who were home at the time.
According to the police report, Vicente wrapped Nieves' body up in a bed sheet and carpet roughly three days later and disposed of the body in a dumpster on the property.
Video footage from the building manager shows Vicente walking from Nieves's apartment "with a dolly that had a large human sized item wrapped in what appeared to be plastic trash bags with duct tape around it," according to the police report. "Vicente then returned to the building with the dolly, but the human size item was no longer being carted."
Salem Police Chief Lucas Miller said Nieves's death marks "another case of domestic violence that hammers home what a terrible problem this is."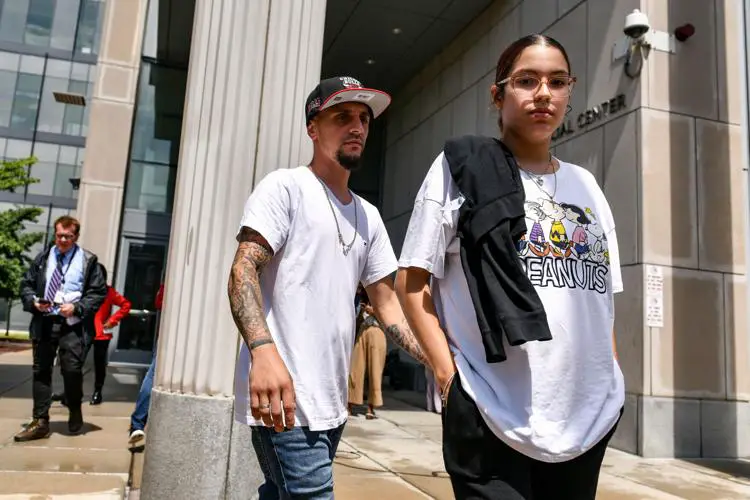 Vicente's attorney, Denise Regan, declined to comment on the murder case outside the courthouse Tuesday.
One of Nieves's brothers, Angel Nieves, and his girlfriend, Janessa Sosa, shared their grief and outrage over the young mother's death.
"She was a very good mother and she did not deserve what happened to her," Sosa said.
In April, Vicente was arrested and charged with assaulting Nieves, according to court records. Middlesex County prosecutors asked the judge to revoke Vicente's bail and hold him in jail because he previously defaulted on a 2019 domestic violence charge. However, the judge denied the request, records show, and Vicente was released on bail.
"It wasn't right," said Angel Nieves of the judge's decision.
Following his arraignment Tuesday, Vicente is being held without bail at a jail in Essex County and is due back in court September 8.
Fact Check
We strive for accuracy and fairness.
If you see something that doesn't look right, email us at  [email protected]