A name that frequently comes to mind when discussing Ghana's media industry is George Kwesi Twum.
Kwasi Twum is the Founder and CEO of Multimedia Group, noted for establishing the first privately-owned radio broadcaster in Ghana (Joy FM).
Previously, he served as the Executive Chairman of Ridgecrest Services Limited.
Education
Kwasi Twum holds a BA (Hons) in Economics from the University of Ghana and is an alumnus of the Harvard Business School.
Career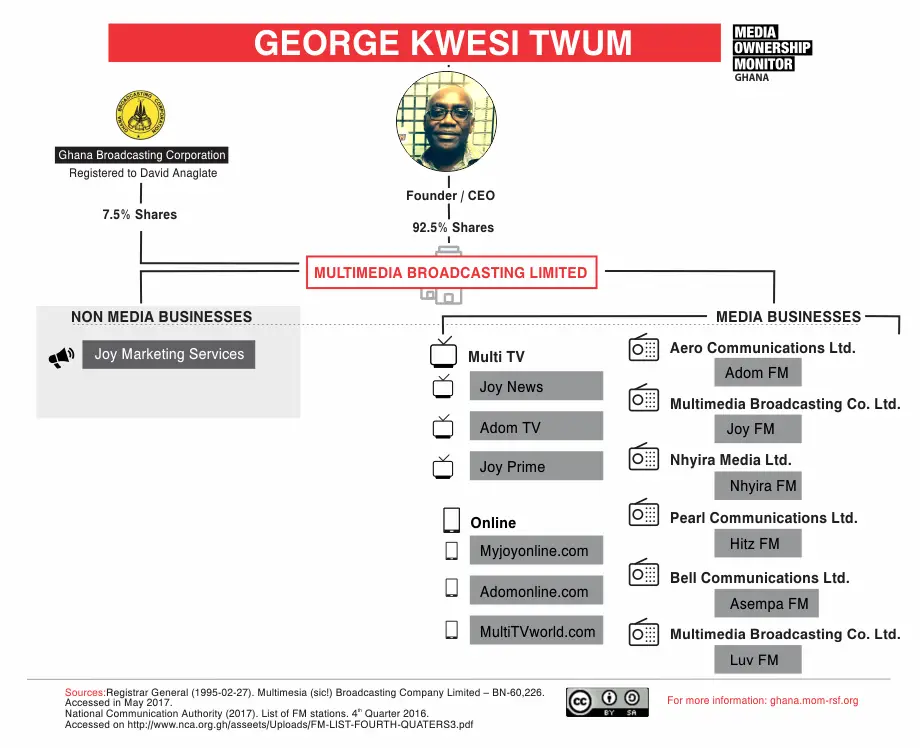 His desire to develop a thriving independent broadcasting sector in Ghana led him to found Joy FM, Ghana's first private radio station.
As a result, he founded Multimedia Group Limited, a company that he is President, CEO, and Director.
Twenty years after Joy FM launched in 1995, George Kwesi Twum has built up a media empire involving six radio stations (Joy FM, Luv FM, Adom FM, Nhyira FM, Hitz FM and Asempa FM), a multi-channelled television station, an online business with multiple radio plug-ins, and more around it.
Many people also credit George Kwesi Twum with the formation of the Ghana Independent Broadcasters Association (GIBA).
He is a regular participant at international media conferences.
Net Worth
Kwasi's radio and television stations reach approximately 15 million people throughout Africa.
Having launched a new satellite TV platform called Multi TV in 2009, the satellite TV is achieving a market share of 20 percent in Africa and is gradually gaining a viewership of 10 million viewers.
In Ghana, Multi TV has established itself as one of the major competitors of DSTV (the largest satellite TV provider in Africa) due to its strategy of being affordable and accessible to those who cannot afford the expensive DSTV.
It, therefore, provides a better alternative for the soaring low and middle-income earners in Africa.
The company has sold over 5 million Digi box Satellites and is paving the way for free-to-air television.
However, his fortune improved after Times Media bought a 32.26% interest in Multimedia for $14.6 million.
The South African Media giant operates a TV channel, Business Day, Newspapers, Financial Mail and Sunday Times and is listed on the Johannesburg Stock Exchange.