Judge Jeffrey Cashe is facing criticism for deciding to award the custody of a child born out of a 2005 assault to a man accused of rape.
John Barnes, then 30, allegedly sexually assaulted 16-year-old Crystal Abelseth of Louisiana while he dropped her home.
Six years later, she says he found out about the baby but did nothing about it until 2015, when he suddenly requested 50/50 custody.
She then filed a police report, alleging the rape ten years prior, but he was never charged – even though Louisiana has clear statutory rape laws that apply to anyone under the age of 17.
Now, Abelseth has been ordered to relinquish custody of the now 16-year-old girl and pay Barnes child support, telling local network WBRZ of her peril.
Why did  Judge Jeffrey Cashe grant child custody to alleged rapist?
Reason why Crysta Abelseth was ordered by Judge Jeffrey Cashe to pay child support and give custody of her daughter to John Barnes was because, the rapist complained to Judge Jeffrey Cashe that the girl's mother gave her a cell phone.
Who is Judge Jeffrey Cashe?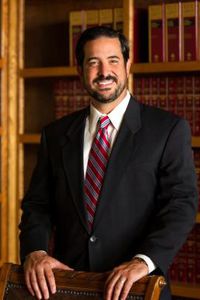 Judge Jeffrey Cashe is a Louisiana judge who joined the 21st Judicial District Court in January 2015 as Judge for the Division 'J' Family Court.
Judge Cashe received his his Juris Doctorate from St. Mary's School of Law in San Antonio, Texas and attended both Louisiana State University and Southeastern Louisiana University.
Judge Cashe began his legal practice with the firm of Baucum Steed Barker, LLC in San Antonio.
In 2004, Judge Cashe returned to Louisiana and joined the firm of Cashe, Lewis, Coudrain and Sandage, a firm founded by his late father, Rodney Cashe.
Through his fourteen years in the legal community, Judge Cashe has held a number of leadership positions both in the legal arena and his community.
Some of Judge Cashe's work has included serving as President of the 21st JDC Bar Association, Board Member and former pro-bono counsel for the Richard Murphy Hospice Foundation, Board Member of the Hammond Downtown Development District and Chamber of Commerce and former Board Member of the Home Mortgage Authority.
Jeff and his wife, Sandra,have one daughter, Isabelle, born in June 2003.