Canada has often been the choice of study for international students because it offers robust facilities, cutting-edge instruction, and expansive campuses, and almost everyone would like to get into any of the top universities in Canada.
However, if you must study in any of the designated institutions in Canada, you will need to obtain a study permit before moving over to Canada.
A study permit is the student visa international students need to enroll in any program of learning in Canada.
Requirements For Applying for A Student Visa in Canada
You may apply for a Canada Student Visa once you meet and satisfy the conditions stated below:
You must have been certified as a fully vaccinated traveler.

You have been granted admission to a designated learning institute (DLI).

You must have proof that you have sufficient funds to pay for; tuition fees, living costs for you and any accompanying family members in Canada, as well as return travel costs for you and any accompanying family members.

You must have proof of no past criminal records.

You will need to present proof that you are in perfect health and are prepared to undergo a health checkup.
Documents Required to Apply for A Student Visa in Canada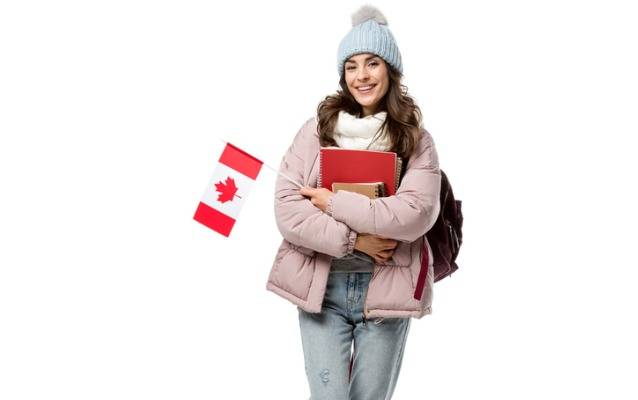 To apply for a study permit, you would need a current and valid passport.
It is crucial that you have a passport whose validity spans the duration of your anticipated stay in Canada, according to the Canadian High Commission.
Proof of Acceptance by a Designated Learning Institution
You will be required to provide the acceptance letter from the university or institution you plan to attend.
A Designated Learning Institution is any institution of learning that has obtained approval from the residing government to host international students. It should also be well-recognized by the Immigration Department.
You have to show proof of funds to certify that you have adequate funds to pay your tuition fee as well as take care of living expenses during your stay there.
You also need to show that you have sufficient funds to cover return costs for you and any accompanying family members.
Proof of funds can be gotten via any of the means below:
Bank statements for the past 4 months

Canadian bank account

Guaranteed Investment Certificate (GIC) from a participating Canadian financial institution

A student or education loan

A letter from the person or institution funding you.
If you are applying for a student visa offline, you would need to provide two passport size photographs that are up to standard.
However, if you are applying online, you will need a digital copy of the photographs not more than 4MB.
It is also important to note that:
The image size (passport size) should be 35mm x 45mm at least.

The image should not be older than 6 months.

Your name and date of birth should be written boldly behind the photos.
A statement of purpose is an essay written by you which explains why you want to move over to Canada and why you want to study that particular course.
It's necessary to explain why you want to study abroad.
In the case of an online application, you would need a credit card to pay the application cost. It isn't necessary that it has to be your credit card, it might be that of your parent or guardian, as long as you have permission to use it.
It should also be noted that the online payment gateway allows only credit cards.
Application Process For A Student Visa 
Choose Your Application Format 
There are two ways you can use to apply for a Canada student visa; online and offline.
A) For Online Application, you will need electronic copies of the documents you want to upload, and you must have access to a scanner or camera that will aid you to create these copies.
At the local Visa Application Center, a finger scan will still be required from you (VAC). Keep in mind that if you submitted an online application, you would also need to visit the VFS offices to submit your passports and the receipt for your fee payment.
B) For Application on Paper, you will have to read the instructions and get the application kit. Important details about study permits are provided in the instruction manual, along with instructions on how to complete your application.
 Processing Fee
After filling your form online and in paper, you will need to pay a non-refundable visa processing fee.
This fee must be paid in addition to VFS Global service fees when submitting an application via the VFS, in person, or by mail.
The cost of a study permit in Canada is CAD 150 which is equivalent to USD108.42.
This amount is subject to change as exchange rates changes.
It is also required that students pay an additional CAD 85 biometric fee after submitting their visa application.
This is paid with the normal visa fees after which you can submit your biometrics at a Visa Application Center.
Fact Check
We strive for accuracy and fairness.
If you see something that doesn't look right, email us at  [email protected]