The 14-year-old armed teenager who was shot dead by a South Carolina gas station owner died after a single bullet pierced his lower back then traveled up into his heart, the coroner has revealed.
Cyrus Carmack Belton, died on Sunday night in Columbia, South Carolina, after being wrongly accused of shoplifting by Rick Chow.
Carmack-Belton entered the convenience store on Parklane Road in Columbia around 8 p.m., Lott said.
At some point, the teenager, Chow and the owner's son started arguing, said Lott, who didn't detail what led to the dispute.
Eventually, Carmack-Belton left the store and took off running, Lott added.
The owner, armed with a pistol, and his son chased the teen toward a nearby apartment complex, Lott said, adding that Carmack-Belton fell at one point but got back up.
Chow's son said Carmack-Belton had a gun, which is when the owner shot him in the back as he was running away, Lott said.
Authorities later recovered a gun next to the teen's body.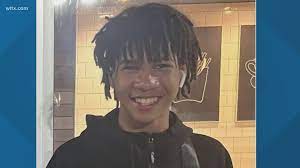 The wound caused hemorrhaging and significant damage to Carmack-Belton's heart, Richland County Coroner Naida Rutherford said.
He was taken to a hospital, where he was pronounced dead.
The investigation determined the shooting was "not a bias motivated incident," according to a report from the sheriff's office.
Cyrus Carmack Belton was Black. Chow is Asian.
A crowd gathered outside the store Monday to protest, a police report said.
At 9:43 p.m., several people broke into the store and took items off the shelves, it said.