Courtney Tillia, a former teacher who quit her career to become an OnlyFans star, claims she has become a millionaire.
Courtney Tillia who quickly became an internet sensation posing in sexy schoolgirl lingerie, seductive specs and revealing office wear revealed to TMZ that she made up more than $1 mil between her 3 OnlyFans accounts, in just a little more than 3 years and, she has zero regrets about the dramatic career shift.
When did Courtney Tillia join onlyfans?
She launched her OnlyFans platform in 2019 and began to build a loyal legion of followers who loved the mum-of-four's saucy snaps.
How much is Courtney Tillia making on onlyfans?
Courtney Tillia has 3 accounts on onlyfans – a VIP page, a free page and a merchandise store.
She earned nearly $750,000 from her VIP page.
The "free" page also makes money through pay-per-view content.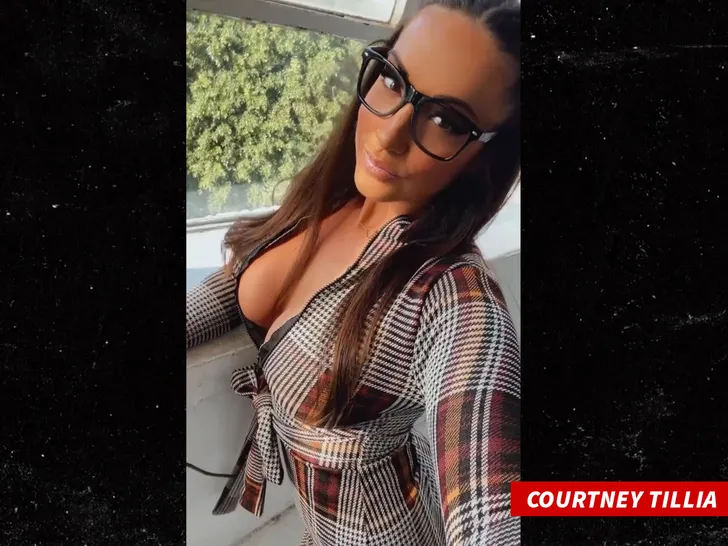 Is Courtney Tillia married?
YES, Courtney Tillia is  married Nick Tillia and they have four kids together.
Her husband encouraged her to use her assets to forge a new profession as his wife was so unhappy.
Courtney moved her husband and 4 kids to L.A. from Arizona and they've been able to enjoy family vacations to Hawaii and Nashville.
She isn't worried about what her kids think about her profession.
Instead, she and her husband are focused on teaching their children to be open-minded and not to shame others on what they do for a living.
Fact Check
We strive for accuracy and fairness.
If you see something that doesn't look right, email us at  [email protected]