UFC legend Stephan Bonnar has died at the aged of 45.
The UFC broke the news Saturday, writing ... "The UFC family is saddened by the tragic passing of UFC Hall of Famer Stephan Bonnar Thursday from presumed heart complications while at work."
The Hall of Famer passed away on Thursday with reports suggesting he died of heart complications.
As fans and friends pay tribute to the late Stephan Bonnar, we take a look at his early days with wife, Andrea Brown Bonnar, and their son, Griffin Brandon.
Who is Andrea Brown Bonnar, Stephan Bonnar's wife?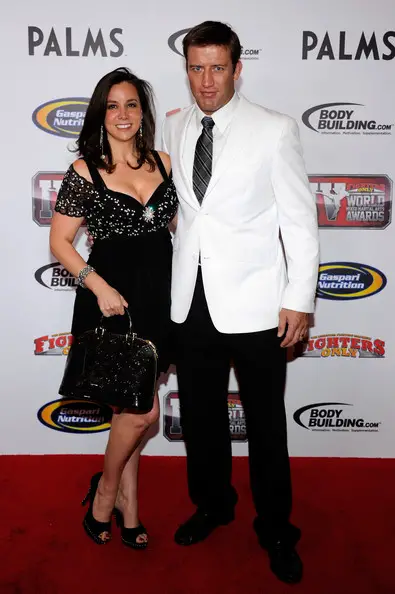 At the time of his death, Stephan Bonnar was married to Andrea Brown Bonnar.
Bonnar and his longtime girlfriend were married on October 30, 2009 in Tuscany, Italy.
The couple have one son, Griffin Brandon, named after Forrest Griffin and in memory of Andrea's late brother, Brandon Brown.
Career
During the mid-1990s, Andrea Brown started her career as a producer for Hubbard Broadcasting.
A few years later, she began working at Fox News Miami as a Special Projects/Consumer/Investigative Producer.
From 2007 to 2010, she worked for MGM Resorts International as a PR Manager.
Her most recent job was as a publicist, stylist, and talent manager for Stephan Bonnar Enterprises.
Who was Stephan Bonnar?
Bonnar, a native of Hammond, Indiana, but a longtime resident of Las Vegas, had not fought in MMA since a bout with Tito Ortiz under the Bellator banner in 2014, which headlined what at the time was the most watched Bellator event in its history.
Bonnar last competed in the UFC in 2012, a loss to all-time great Anderson Silva.
Before that bout, Bonnar was on a three-fight winning streak.
In his career, Bonnar faced seven future or former UFC champions: Griffin, Ortiz, Silva, Evans, Jon Jones, Lyoto Machida and Mark Coleman.
Bonnar named his first son Griffin after his most significant rival, who went on to become a good friend.
Bonnar, who finished his career with a 15-9 record, also did color commentary over the years for the WEC promotion and worked several times as an MMA analyst for ESPN and Fox Sports.