Michele O'Neill, born on 10 January 1977, is an Irish politician who served as deputy First Minister of Northern Ireland between 2020 and 2022.
Since 2018, she has served as Vice President of Sinn Féin and is a member of the Legislative Assembly (MLA) for Mid Ulster.
From 2005 to 2011, O'Neill served on the Dungannon and South Tyrone Borough Council.
She served as the first female Mayor of Dungannon and South Tyrone from 2010 to 2011. 
In 2007, she was elected to represent Mid Ulster in the Northern Ireland Assembly. 
In 2011, she was appointed to the Northern Ireland Executive by deputy First Minister Martin McGuinness as Minister for Agriculture and Rural Development.
In January 2020, O'Neill was appointed deputy First Minister of Northern Ireland.
She automatically lost her position on 14 June 2021 when Arlene Foster resigned as First Minister, and regained it when she and Paul Givan were nominated as deputy First Minister and First Minister respectively on 17 June 2021.
Michelle O'Neill Husband: Is Irish politician married?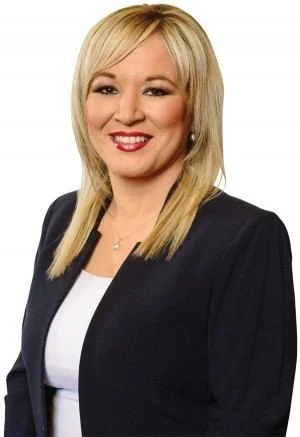 Michelle has quite an unusual story for a politician, becoming a mum at just 16 years old.
Michelle was married to Paddy O'Neill but they separated in 2014.
She is mum to two children, daughter Saoirse and son Ryan.
She previously said that having a baby at the age of just 16 made her a stronger person.
Michelle O'Neill is currently single after splitting with her husband in 2014 .
Fact Check
We strive for accuracy and fairness.
If you see something that doesn't look right, email us at  [email protected]