Miriam Olusanya is a prominent Nigerian banker and the current Managing Director (MD) for Guaranty Trust Bank.
Before her appointment as the new MD for GTBank, Olusanya served as the Executive Director of GTBank since 2018, where she was an Executive Trainee.
Olusanya is currently the first female Managing Director in the bank history.
Date of Birth and Age
Miriam Olusanya's date of birth is not public and as a result, there is no public data about her age as well.
Education
She earned a Bachelor of Pharmaceutical Science degree from the University of Ibadan (1995) and a Masters of Business Administration (Finance and Accounting) from the University of Liverpool, United Kingdom (2011).
Additionally, she earned a professional ACI (Association Cambiste Internationale) Dealing certification from The Financial Markets Association.
In addition to participating in various training programs and executive programs, she has attended schools such as the Cranfield School of Management.
Career
Her career spans more than 20 years, including years of experience in Transaction Services, Asset and Liability Management, Financial Markets, Corporate Finance, and Investor Relations.
She initially joined GTbank in 1998 as an Executive Trainee and rose through the ranks to become the company's General Manager before being appointed Executive Director.
While at GTBank, she managed the local and foreign currency trading desks before becoming the Bank's Chief Dealer in 2003 and subsequently, Treasurer in 2004.
In 2006, she led the team that secured the appointment of the Bank as a Primary Dealer/ Market Maker in Federal Government of Nigeria (FGN) Bonds with the Debt Management Office (DMO).
She serves on the Board of Guaranty Trust Bank (Gambia) Limited as a non-executive Director.
On 14th June 2021, GTBank announced her as the new Managing Director.
Relationship
According to reports, Miriam Chidiebele Olusanya is divorced.
She was married to Olusanya Abiodun.
ghlinks.com.gh gathered that Miriam has been living separately with her husband for some years, and her husband sued for divorce in the United States of America (USA).
Meanwhile, the Divorce Paper which was obtained revealed that the case: "PETITION FOR DISSOLUTION OF MARRIAGE" has Olusanya Abiodun as the plaintiff (husband) and Miriam (wife) as the defendant.
The divorce was filed in Lincolnwood, Illinois, United States.
Below is the divorce document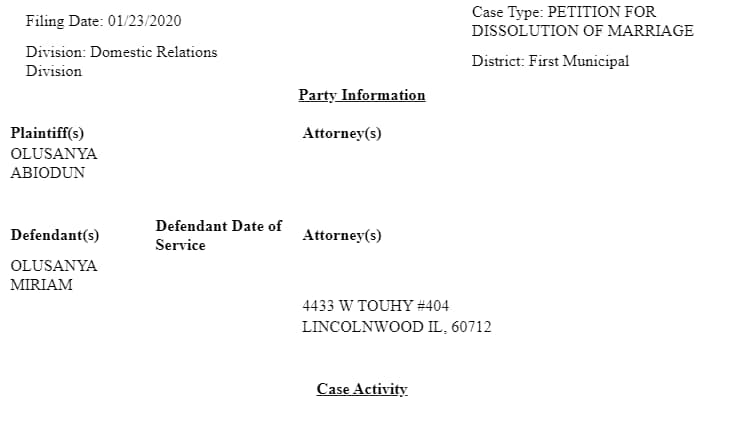 Net Worth
Miriam Olusanya net worth is under review as of the time of this article.