The homewrecker drama involving BBNaija reality star Maria Chike Benjamin and socialite Cubana Chief Priest's Brother-in-law Kelvin Anene continues to unfold.
The news that a married man named Kelvin Anene was allegedly dating Maria Chike, a former Big Brother Naija housemate, set the Internet on fire yesterday, October 24.
Maria had previously been called out by a popular Instagram blog 'Gistlover' for her relationship with a married man.
Following this, a businessman tycoon aka Cubana Chief Priest posted on his Instagram, He said; "@grandfish1 @iam_lolofish_27 I get dollars for you, I get pounds for you, there is nothing sweeter than family, wives stay woke girls like @mariachikebenjamin are coming for your husbands, she stole my sister's husband as if that's not enough she is sending her threats, that I won't let it slide, kelvin I dey find una come that dubai nothing must happen to my sister."Yesterday.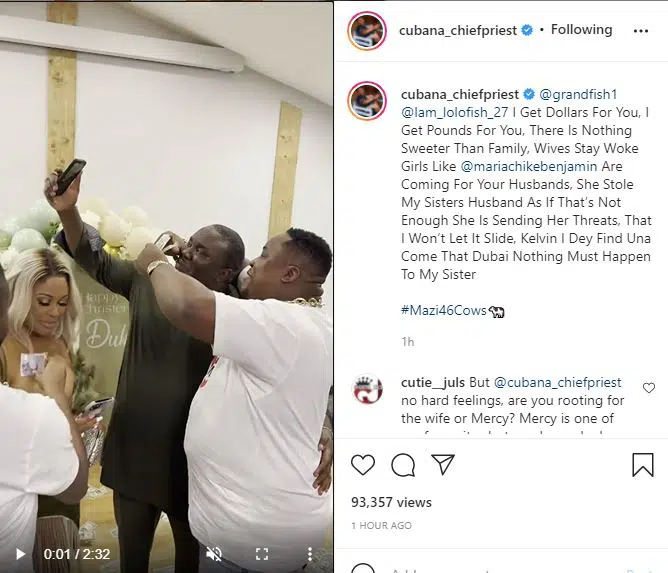 How the saga started
Last Weekend, Maria was spotted flaunting wads of cash on her Instagram story while she went shopping, purchasing brands such as Issey Miyake, Christian Dior, Givenchy, etc.
Additionally, there was a particular wristwatch on her hand that some social media users deemed to be her lover's as he appeared in a picture wearing the same wristwatch, ghlinks gathered.
Maria revealed in a recent interview that she has been working since she was 16.
She said; "I have been working since the age of 16. I went to university and high school. I had two jobs. I paid my own rent nand I lived by myself and took care of myself sometimes when people say she got all of these because she's pretty, I get upset. Beauty can only last for a short period of time."

In addition, Cubana Chiefpriest posted a video on his Instagram handle with the caption; "@mariachikebenjamin how on earth will you threaten a married woman who has a male and female offspring to leave her husband for you or die, you dey show person husband's watch and car to pepper her, Kelvin I am so ashamed of you, all of us dey street, you no carry woman pass anybody but we can never make home miserable for our woman to the point a sidechick calls your wife to threaten her life.
If what you are doing is right, why are you covering your face in shame in this video, my own na make nothing happen to my sister, okwa mmadu nwe ogodo ewu na ata (Someone is the owner of the cloth a goat is chewing), if anything happens to my sister".
Cubana Chiefpriest further posted documents to back his claims that Kelvin (the alleged lover) is legally married with kids.
Screenshot of Cubana Chiefpriest's post below;
View this post on Instagram
View this post on Instagram