Rumours have been circulating that Sexyy Red and Drake are in the early stages of dating.
But are Sexyy Red and Drake really dating?
Here's what we know
Are Sexyy Red and Drake dating?
Canadian rapper, singer, Drake sparked romance rumors on Tuesday night by sharing a cozy photo with fellow rapper Sexyy Red to Instagram.
Drake, real name Aubrey Drake Graham was spotted out with a mystery woman the night prior — was captured planting a kiss on the red-haired vixen's cheek as they hung out in a club.
They were seated closely beside one another of a couch and Drake kept one arm wrapped around her for the photo.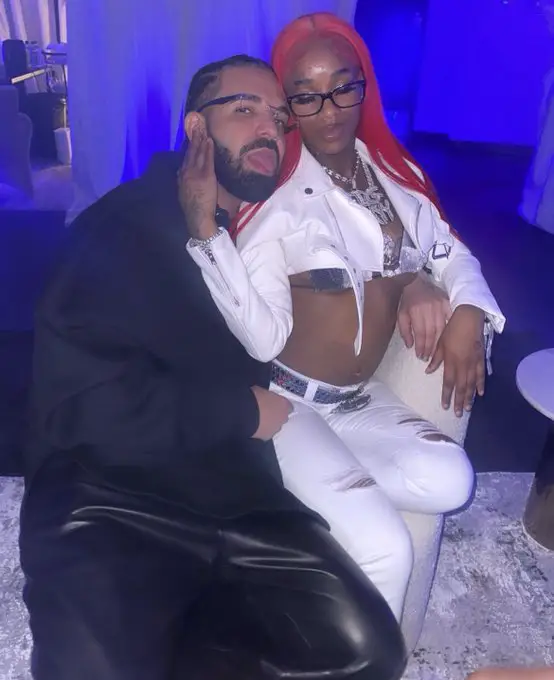 'Just met my rightful wife,' captioned Drake, who made sure to tag Sexyy Red.
At the moment we can't confirm if Drake and Sexyy Red are dating but fans suspect that Drake may have shared Tuesday's post to tease a potential collaboration between the pair.
Whether or not he and Sexyy Red are an item, Drake was caught out enjoying a night out with a busty mystery gal on Monday night.
She was later spotted leaving the club with the Hotline Bling hitmaker and his entourage.
Drake's love life is ever a mystery as just last month he appeared to suggest that he was dating singer Lilah Pi after he gushed about her in a birthday post.
'More life to the gyal that's impossible to duplicate,' he wrote alongside a gorgeous photo of Lilah. 'My inspo, my confidant, my best mate, my heart @lilahpi happy birthday.'