In the age of social media, the consequences of one's actions can spread like wildfire, and attorney Anthony Orlich learned this lesson the hard way.
Anthony Orlich recently found himself at the center of a storm of criticism and controversy after a video went viral, capturing the moment he forcefully removed a woman's wig.
The incident occurred in New York City and was recorded by TikToker Lizzy Ashliegh, who subsequently shared the footage online.
The shocking video quickly gained traction, drawing widespread condemnation and sparking a heated debate about Orlich's behavior.
At the time of the incident, Anthony Orlich was employed by Leader Berkon Colao & Silverstein, a prominent law firm.
However, the firm wasted no time in responding to the public outcry.
Leader Berkon Colao & Silverstein LLP promptly addressed the situation on their LinkedIn page, expressing their firm stance on inappropriate behavior and announcing Orlich's termination.
In their statement, the law firm made it clear that they take any form of misconduct seriously, regardless of whether it occurs within or outside the workplace.
Leader Berkon Colao & Silverstein LLP emphasized their commitment to maintaining a professional and respectful environment for their employees and clients.
Read their post below
"We take seriously any inappropriate behavior by any employee, whether inside or outside the workplace. This associate is no longer with the Firm," stated Leader Berkon Colao & Silverstein LLP.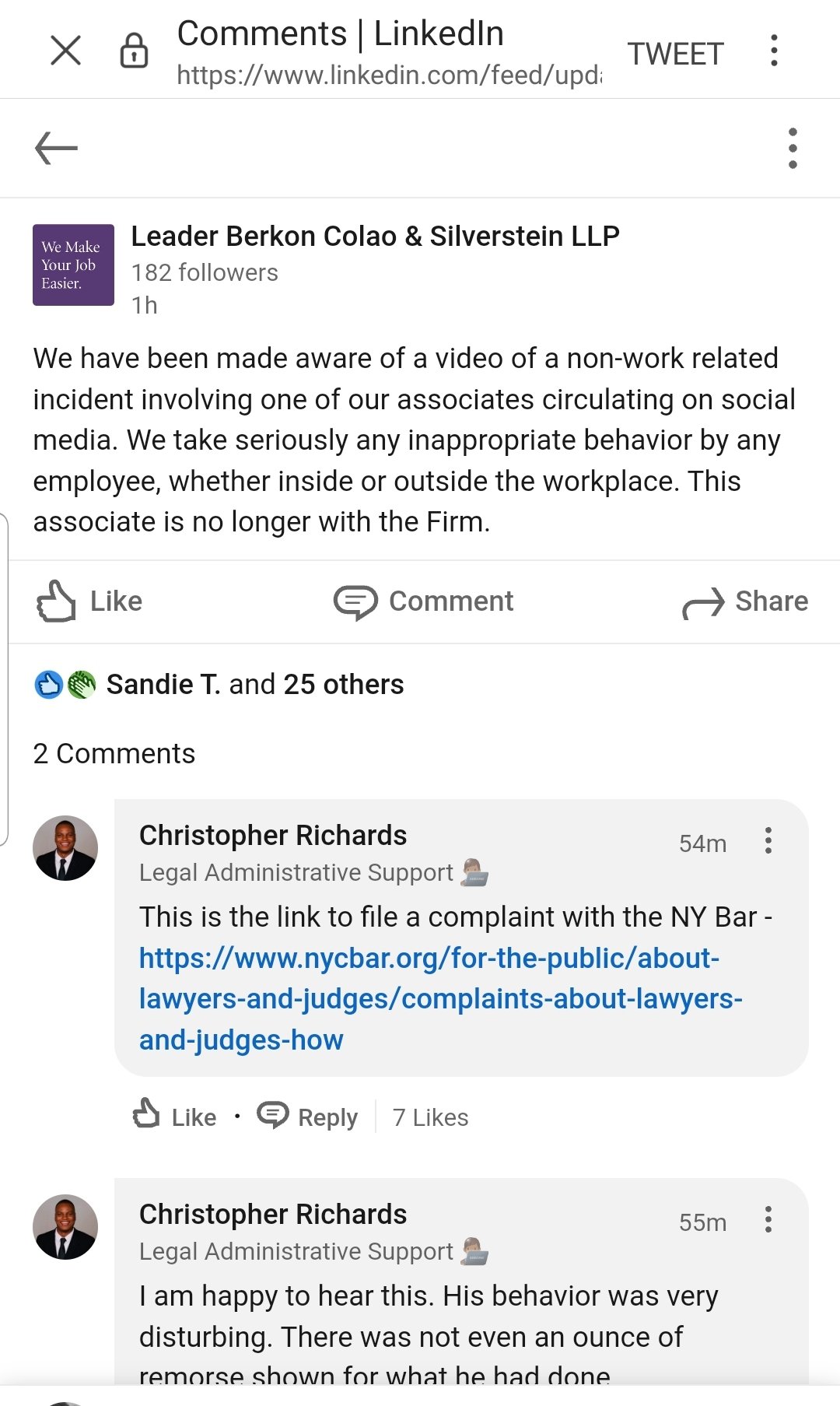 With this in mind, they decisively severed their ties with Anthony Orlich, signaling a zero-tolerance policy towards actions that undermine their core values.
Watch video of the incident below