The search for a Texas man who mysteriously disappeared on an early morning walk over the weekend is still on, leaving Callie Richards, his wife and two young kids with more questions than answers.
His wife, Callie Richards, noticed her husband wake up early that Friday around 5 a.m., but when he did not return to their bedroom to get ready for work, she got up to check on him, according to Colby's cousin, Allison Fox.
Causing further concern,  Callie Richards told reporters Monday, is the fact the gate was inexplicably left ajar – leading cops to speculate the dad wandered into 28,000 tree-filled acres behind the house.
They have since recovered a Yeti coffee tumbler belonging to the beloved dad, but have gleaned few leads aside from that.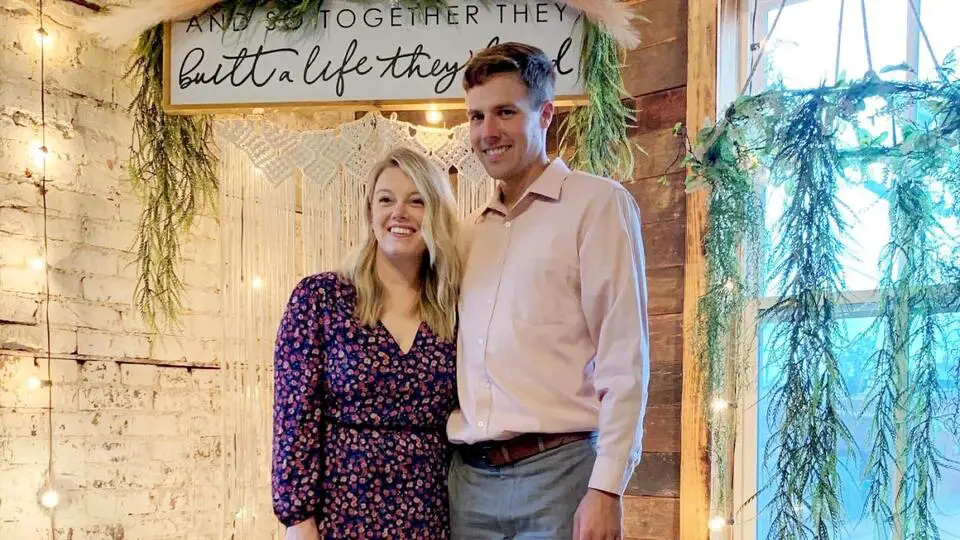 Residents and law officials are now canvasing the woods in search Richards, an engineer, part-time baseball coach, and father to a three-year-old daughter and one-year-old son.
'It is very bizarre. It feels like there's just so many things – so many possibilities – it's really hard not to wonder all of the things that could have happened,' Richards told Fox 26 reporters outside her Musgrave Place home on what was Day 4 of the search.
'Normally, in the morning he leaves around 6:30 for work,' the mom, visibly emotional, said of the strange disappearance. 'He got up at some point and I could just feel that he wasn't there. I go downstairs – he's not down there. He's nowhere.'
Callie Richards added that her husband typically wakes up for work around that time, at around 5 or 6 a.m., but that morning, she did not hear him getting ready.
When she went outside to investigate, she noticed the back gate to her home was left open – an unusual occurrence for two reasons, according Callie.
The first, she said, was the fact that Richards usually leaves for his morning routine through the front – and while hiking and meditating in quiet areas is not atypical for the missing father, it's not part of his usual pre-work routine.
The second, she told the station with tears in her eyes, is simply the detail that the dad would have usually been sure to lock the gate to the family home when leaving – raising, in her mind, a red flag.
'I go outside – I can see that the back gate is open,' she said Monday. 'He never goes out the back gate. That's not something typical.
'Right away, I just knew something wasn't right. I called 911.'