Capt. Lillian Carranza, a veteran LAPD officer has revealed that she was so traumatized by the sharing among her colleagues of fake nude photos of her that she was hospitalized on Christmas Eve with rocketing blood pressure, a civil trial was told.
Lillian Carranza, claims that she told her bosses in December 2018 that the topless photos which purported to show her were not real and had been photoshopped.
But they refused to tell her colleagues, allegedly for fear of drawing even more attention to the doctored photographs and making them go viral.
Carranza claims her superiors knew about the photo, but did not tell her, and she only learnt about it when a friend in the force told her.
The stress of the ordeal left Carranza hospitalized.
She is suing the LAPD for sexual harassment and creating a hostile environment, and is seeking undisclosed damages.
Carranza's attorney, Greg Smith, told the court on Thursday that she was left so humiliated by the situation she sank into a deep depression, and had to be taken to hospital on Christmas Eve with soaring blood pressure.
Smith said that even after she sued the department over the incident, the chief did not publicly tell his officers it was fake or direct them not to share the image.
Who is Lillian Carranza?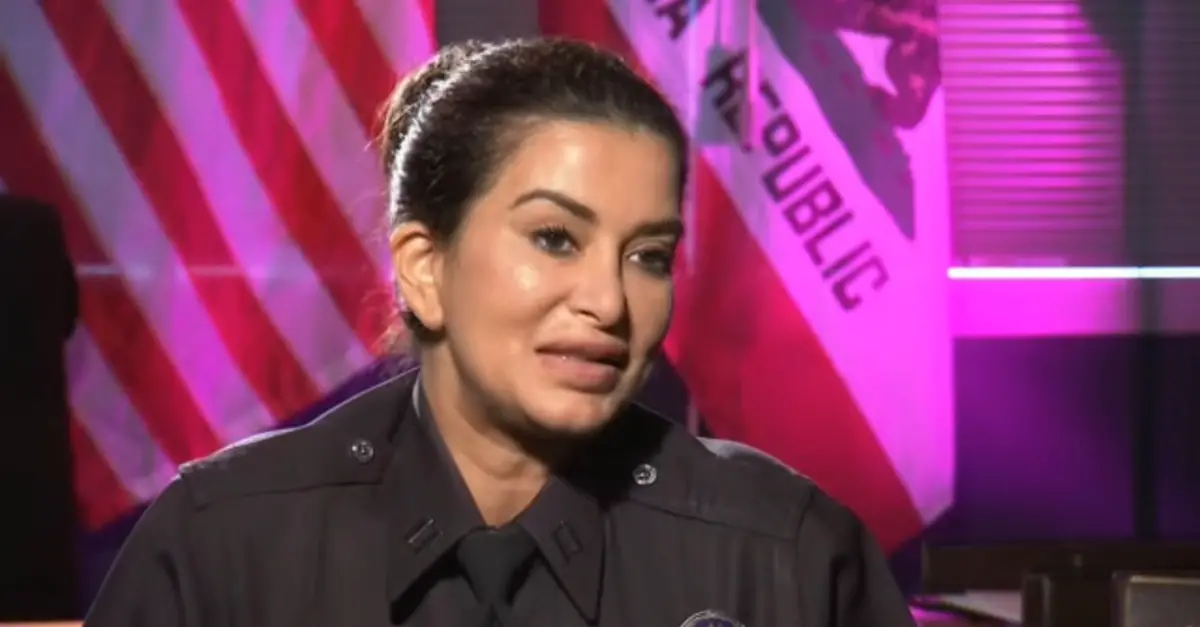 Captain Lillian Carranza is a 32-year service veteran of the Los Angeles Police Department.
She was born the first of three children in Honduras, Central America and grew up in New Orleans, LA.
She moved to Southern California in 1988 and joined the Los Angeles Police Department in 1989.
Captain Carranza rose through the ranks of police officer, detective, sergeant, and lieutenant working various patrol, investigative, and administrative assignments throughout the City.
Captain Carranza promoted to the rank of Captain in 2012 and her assignments included assuming command at three operational commands in three different Bureaus: Wilshire, 77th and Van Nuys Areas, later transferring to specialized commands such as Commercial Crimes Division (CCD) in 2018 and Gang and Narcotics Division (GND) in 2022.
While at CCD, Captain Carranza was responsible for the Department's:
• Cyber Unit
• Major Theft Task Force
• Financial Crimes
• Burglary Specials Section
• Organized Retail/Cargo Theft
• Real Estate Unit
• Intellectual Property Crimes Unit
• Taskforce for Regional Auto Theft Prevention (TRAP)
TRAP is Los Angeles County's regional, multi-jurisdictional, multi-agency taskforce that investigates, prosecutes and deters vehicle theft and vehicle fraud on a coordinated and cooperative basis.
On January 2022, Captain Carranza was assigned as the Commanding Officer of Gang
and Narcotics Division (GND).
Since there is a nexus of guns, gangs, narcotics, and crime, the increased cooperation between narcotics and gang detectives, in cooperation with other City entities and resources, was developed to abate chronic narcotic and gang locations.
The GND focuses on disrupting violent gangs with allied law enforcement agencies and expand the highly successful High Intensity Drug Trafficking Areas (HIDTA) Task Forces to reduce violent gang crime.
The mission of Gang and Narcotics Division is to disrupt violent street gangs and the means by which they support their lifestyle, including the manufacture, transportation, sale and use of illicit drugs, and sales of firearms in the greater Los Angeles Area reducing deaths, overdoses, property and violent crime.
Fact Check
We strive for accuracy and fairness.
If you see something that doesn't look right, email us at  [email protected]