Jim Griffin recently represented Alex Murdaugh, the 54-year-old scion of a prominent and powerful family of local lawyers and solicitors, was also found guilty of two counts of possession of a weapon during the commission of a violent crime in the killings of Margaret "Maggie" Murdaugh and Paul Murdaugh on June 7, 2021.
Bio & Career
Jim Griffin is a trial and healthcare lawyer who has more than 30 years of experience representing clients in civil and criminal courts at the federal and state level and representing healthcare providers in some of the most challenging of legal matters.
In his criminal practice, Jim has been the lead trial counsel in a number of cases featured in national and state news publications, magazines and television programs.
One of Jim's criminal trials was broadcast on a popular television cable channel devoted to court trials, and his client was acquitted before a nationwide audience.
Jim has also obtained multi-million-dollar verdicts and settlements for clients in civil cases.
He has extensive experience representing clients charged with federal crimes, such as mail and wire fraud, healthcare fraud, mortgage and securities fraud, public corruption, government contractor and procurement fraud, and criminal tax charges.
He represents medical doctors, nurses, dentists and other licensed professionals charged with administrative violations.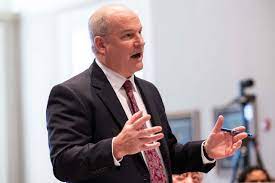 In his healthcare practice, Jim has been at the forefront of legal challenges facing healthcare providers. He was trial and appellate counsel for Tuomey Hospital in the landmark Stark/False Claims Act case, Drakeford v. Tuomey Hospital, 792 F.3d 364 (4th Cir. 2015).
Jim also successfully challenged South Carolina's Medicaid payment practices on behalf of a Federally Qualified Healthcare Center, Genesis Health Care, Inc. v. Soura, 2017 WL 698610 (US Dist. SC 2017).
Jim was one of the first attorneys in the Carolinas to advocate on behalf of physician groups for compensation from hospitals for providing on-call coverage in a hospital's emergency department.
He has arbitrated disputes between physicians and hospitals before the American Healthcare Lawyers Association.
Jim also has extensive experience in False Claims Act litigation on behalf of both whistleblowers and defendants in cases alleging violations of Stark and the Ant-Kickback Act, as well as upcoding and other billing improprieties.
In addition, Jim represents physicians and other healthcare professionals who are under investigation by the federal and state authorities.
Recently, Jim represented an international corporation and its principal in a federal criminal investigation into marketing of DME braces.
This investigation is known as "Operation Brace Yourself" and involved the extensive use of telemedicine to obtain prescriptions.
Jim also appears frequently before the South Carolina Medical Board and other healthcare licensing boards on behalf of clients.
In 2018, Jim was honored by the South Carolina Chapter of the American Board of Trial Advocates as the "Trial Lawyer of the Year."
He is currently listed as a Premier Healthcare Attorney and South Carolina Super Lawyers® has recognized him for five (5) straight years for his work in the area of civil defense.
He is rated AV Preeminent for the highest level of professional excellence by Martindale Hubbell.
Education
He received his undergraduate degree from Wake Forest University and his law degree from University of South Carolina School of Law in 1987.